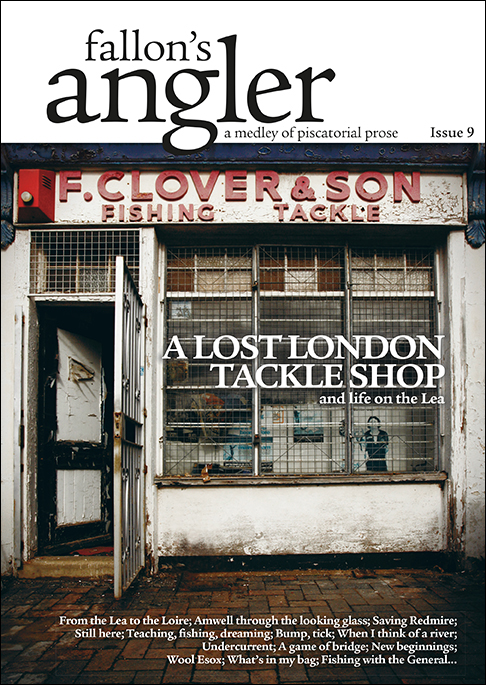 Fallon's Angler is a PRINT ONLY* fishing magazine that celebrates the telling of the angling story through original, long-form writing with a strong, narrative feel, and avoids the incessant barrage of tackle and tactics. Appearing four times a year with an average of sixteen articles per issue, it gives the reader some 28,000+ words to sink their teeth into. Covering subjects from coarse, game and sea, it's all down to the skill of the writer to convey the magic of angling.
There are so many angling magazines it's difficult to count them all. In this digital world, there are also myriad angling blogs and free online resources. Bite-sized articles are everywhere, about everything, by everybody. Much of the angling press plug short-form instructive articles, rather than longer features. At the opposite end of the scale, many books are published. But where is the middle ground? Fewer editors are commissioning these pieces, and for such inadequate recompense that writers are shying away.
Fallon's Angler offers angling writers the space to express themselves, and get properly paid for it. It hopes to encourage existing writers to write more, and to nurture new talent to enter the industry. The industry has some wonderful writers, but who is the 'next big thing'?
Some writers are very familiar to you, some less so, and there are several you've never met before. There are also excellent writers out there who Fallon's Angler has not met, yet. Fallon's Angler is about the quality of the writing, not the quality of the angler, or the quality of the fish.
As you can see, we also produce a significant amount of FREE content—video, audio, blogs and short snippets—so there is plenty to entertain you, but our main aim is to produce the finest PRINTED angling magazine we possibly can.
* We now occasionally produce some BLOG entries as digital emags, so you can get a sense of how the print magazine might look, but it will never beat the real thing and how it feels to the touch, perhaps by a log fire, with a nice glass of whiskey.
---
Buying Fallon's Angler
You can now purchase Fallon's Angler very easily using either your Paypal account OR your credit or debit card.
You no longer need to open a Paypal account. You can purchase single issues OR a year's subscription. If you wish to pay by BACS transfer, please contact the editor: editor@fallonsangler.net
At the checkout stage, click on the "PROCEED TO PAYPAL" button, where you will have the choice of using either your Paypal account OR your debit or credit card.
If you encountering problems purchasing Fallon's Angler, please contact the editor by email using the contact page on this website.
Thank you

---
The editor
Garrett Fallon left Ireland for London in the late 1990s, and has designed magazines ever since, working with some of the leading editors and publishing houses in the City of London. The only other constant has been his interest in fishing, which he doesn't do nearly enough. He now has the use of a caravan in a bluebell woods, close to the coast in East Sussex, with a river on its doorstep.