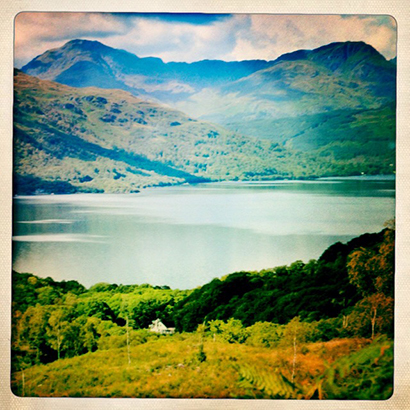 Oh, ye'll tak' the high road, and I'll tak' the low road,
And I'll be in Scotland afore ye;
But me and my true love will never meet again
On the bonnie, bonnie banks o' Loch Lomond.
The mighty Loch Lomond. In area, the largest piece of freshwater in Great Britain, with depths of over 600 feet and a length of 24 miles. There are islands on Lomond big enough to support a colony of wallabies (Inchconnachan) and a colony of naturists (Inchmurrin) – yet the loch is easily accessible. The town of Bannoch, at the southern end of Lomond is only twenty miles from the centre of Glasgow.
The landscape, especially on the Eastern shore, is wild and quite wonderful, and for an angler there is the chance to battle true monsters.
There are a variety of species in Lomond, with salmon and sea trout swimming beside native brownies and plenty of coarse species – roach, perch, dace, chub and ruffe. Also in Lomond is the powan (Coregonus clupeoides), a whitefish found naturally only here and in Loch Eck.
Many anglers come here for the pike (see Fish we Like) that grow big in these waters. Thirty pounders are not uncommon and there are tales of monsters far, far bigger…