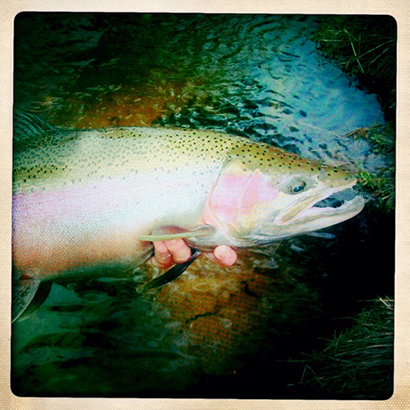 In Bits and Pieces Issue 13 we paid heed to the sea trout—a brownie with a salty sense of adventure. The rainbow trout (Oncorhynchus mykiss) is native to the Pacific flowing waters of North America and Asia, and as with the brown trout, there are some that like to go to sea.
The resulting fish are known as steelheads and unlike the salmon of the Pacific, are iteroparous—meaning they can return to freshwater to spawn several times. As we know from sea trout and salmon, Ocean life is kind to salmonids and the rich diet available helps them grow far larger than the rainbows that stay at home. A twenty pound fish is a landmark specimen while fish in excess of thirty pounds are not unheard of. In recent years, however, more effort has been made to conserve the dwindling numbers of steelhead in North America and weights and records have become less relevant.
In Britain, one or two rainbow trout have been caught in our rivers that have displayed signs of life at sea. Debate continues as to whether they are true steelhead, however, having not been spawned in the river and therefore migrated to sea as smolts.