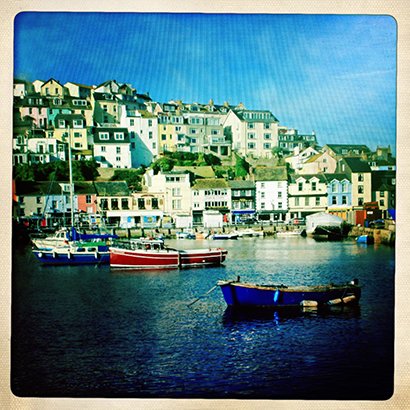 On the southern curve of Torbay in Devon sits the fishing town of Brixham. Mentioned in the Domesday Book of 1086 there is evidence to suggest that a settlement existed here many centuries earlier. Its situation, being protected from the prevailing south westerly winds, made it an ideal spot for a harbour, and while Brixham relies heavily upon Tourism today, it remains home to an active fishing fleet – some boats of which were recently featured on The Catch.
The trawlers of Brixham were long recognisable from their red sails that took their colour from a protective covering of local ochre, and in the latter part of the 19th Century more than 300 boats were registered in port.
For the angler, Brixham offers charter boat fishing for sharks, over wrecks, and even Channel Island trips – while in summer, short hour long mackerel fishing jaunts are particularly popular with holiday makers.
The breakwater offers plenty of action to those fishing with reasonably light tackle. Here, mackerel, scad, wrasse, pollock, rockling, garfish and many other inshore species may be caught. And a friend of Fishpool's (a different one to he mentioned above before you ask – Fishpool has at least two friends) once caught a 9lb lobster here. He did the decent thing and put it back….