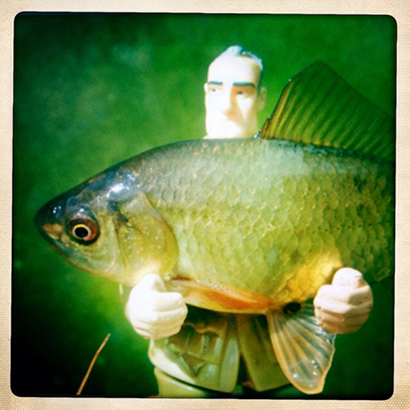 Somewhere, on a river or lake near you, casts an angler quite unlike any other. No man fishes with such efficiency or accuracy. No man is more driven or less distracted. This sport of ours isn't about misty dawns or lazy, hazy afternoons. In the words of the General himself – fishing is not meant to be fun. This is man vs nature. Land dwellers vs water-based super vermin. This is not your mates Steve, Kev and Dave farting about on a Sunday afternoon, THIS IS WAR.
And who can argue with the facts? Already this season The General has caught roach to over 37lb, tarpon to 60lb, a 'jack' pike (his description) of 48lb and world record trout and goldfish.
The General doesn't stop there, though. Never one to sit idly scratching his (ridiculously enormous) chin, The General recently met with Craytos, king of the Signal Crayfish, and brokered a peace deal which has thus far held firm. What a man.
For more, utterly brilliant nonsense, find The General here http://fishing-with-the-general.blogspot.co.uk/ or look him up on Facebook.