Here is a list of all articles featured in issue three, in the order in which they appear, with the first paragraph of each feature to give you an idea of its content.
Fallon's Angler is only available in print, so if you want to read the whole article, please purchase a copy.
Thank you.
[hr]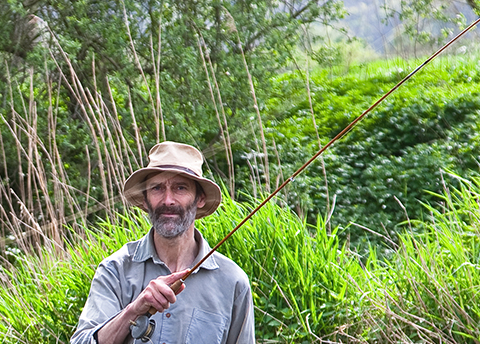 Falcon and fly
In Pursuit of trout, by Chris Yates
It was 51 years ago when I acquired my first fly rod. At that time, when I was 16 and living near Epsom, Surrey, there was no local trout fishing available to me, but there were plenty of dace and chub on the nearby River Mole, fish that would regularly refuse my carefully presented worms and maggots, but, on summer evenings, could often be seen enthusiastically rising for insects on the surface. Eventually they inspired me to buy a new rod and learn how to cast a fly.
[hr]
Syndicated
bliss
Dominic Garnett finds a private water with a difference
You've all seen it and we've all dreamt it. That forbidden stretch of prime river, or that pretty but private lake. The spot you might study jealously through a fence. Private fishing has a curious affect on most of us. Unless you're one of the boys, so to speak, the best it gets tends to be an occasional invite to someone else's paradise. Inside though, whether it's the Test or the pool on a country estate, I still tend to feel a bit like a trespasser.
[hr]
 Sweets of Usk
This unique tackle shop in south-east Wales has its own story to tell, as Nick Fallowfield-Cooper discovers
Last year I visited the unassuming little tackle shop called Sweets, which nestles between the River Usk and the old castle that stands high over the town. My short visit left more questions unanswered, so I was drawn to return and find out more about the unique history of Sweets, a tackle shop that has changed little in almost a hundred years. I wanted to understand the important role it has played with anglers near and far. This time, however, I would return with an empty fly box and ask Jean Williams, the proprietor of Sweets as well as its fly tyer, to create a selection of flies to last me through the season on the river Usk.
[hr]
Before Herman
Strategy and subtlety are crucial in Carlos Baz's Florida fishing challenge
Two hundred yards away a skiff sat at the channel edge at idle and the two men seated in the cockpit had been watching us for some time. First light had broken only an hour before over a morning fraught with storms. Squat, black cauldrons hung from all horizons like the winds of a compass. What early light made its way through those clouds was little more than a dim, grey dissemination. And when there was enough of it to see by we found them watching us. Steven Tejera and I had been working pods of juvenile tarpon rolling their way down the edge of a long flat, all patchworked in eelgrass and sandy potholes. Save a boil behind each of our respective jerkbaits and a lone tarpon's half-hearted attempt at eating the plastic fluke, the rest of the fish present had paid far less attention to our offerings than the men in the intruding skiff had paid to Tejera and I, the two of us nothing more than two silhouettes casting and casting and casting.
[hr]
An ancient mountain trout
High above the hills lies a trout, there since the last ice age, says Scott Winstanley
There is a taste of autumn to this late summer morning, the air is crisp, frigid, almost menthol to inhale. It seems strange to see my breath vaporised and wisping around my face here in the shadow of the fell. I'm at the end of a narrow farm track. The farm nestles at the head of a remote, steep-sided valley. I've been out of bed since dawn, sat at the kitchen table tying flies and studying my maps as the sky began to turn a milky blue. I perhaps should have made my preparations last night but it felt good to be up and about at that time of day, pottering around the cottage. Today I'm exploring the upper reaches of a river, following it to its source, up the valley there, just a few metres from the summit of one of England's highest peaks. The source of the river is a small glacial lake, a 'tarn', a magical mountain pool in which swim an ancient strain of trout.
[hr]
Ocean Bay
by Nigel Ling
Still only five to five but the tackle shop was shut. I looked at my watch then stared through the glass into the dark interior as though
doing so would swing open the door and I could enter and buy my ragworm. Somewhere inside they lay chilled in trays of sea water, long and deep red, millipedal with little monster mouths. Beach fishing tonight had now become entirely dependent on my ability to dig up some lugworm, which for a first attempt ever, and with a child's bucket and spade, would not be a wholly reliable source of bait.
[hr]
An angler 
for all seasons
In the first of a new series, Steve Roberts allows us into the mind of the year-round river guide
We joked about printing a T-shirt that read: "If it's not about fishing I'm not interested". Close to the truth perhaps, but they were especially focused times at the germination of a seedling idea; to become, professionally, a river guide.
[hr]
A short walk upstream
Wandering along a Welsh river, by Jon Berry
I am standing in a trout stream. There is nothing remarkable about that, or about the stream itself, but nonetheless I am here, facing upriver and bracing myself against a strong flow which has pummelled the slate beneath my feet to a rare smoothness. I have a fly rod in my hands and a tape recorder in my fly vest, which is how these words are being captured.
[hr]
The condition of being an angler's wife
A personal approach, by Ebba Durstewitz
I am not an angler. It is, in general, considered to be abysmally bad style to commence an article with the first-person pronoun, but there are times (and places) when (and where) you have to refrain from all kinds of norm-guided behaviour. And this seems to be one of them (time as well as place). So there you go: I am not an angler. Statement. Full stop.
[hr]
Fishin' 
in the rivers 

of life
Sometimes it's not all about size, especially when it comes to little rivers, says Stuart Harris
I reverted to exhaling through the left hand side of my mouth due to my vision being obscured by my own chilled breath. The enchanting view of the Boarhunt downs, with the tiny river Wallington nestled among freshly churned fields, was too good to ignore. Black-headed gulls were still evident, searching out any morsel on offer as most creatures do at this time of little bounty. Crows and rooks joined the foray as they noisily outmuscled the gulls. The sun was yet to appear, but with pink vapour trails above me I knew its arrival was imminent.
[hr]
A little dab of salt
Dipping a toe into the sea, by Garrett Fallon
It will come as no surprise to those of you who've been to Ireland—land of my birth—to know that there is no shortage of water. It falls from the skies in torrents, and oozes from the earth in springs and bogs. Streams, rivers, canals and lakes were everywhere, but it was all fresh water, with no sea in sight. The nearest beach was beyond the capabilities of even the most determined of youths and his bike, and the adventures on our own doorstep prevented stories of the sea from grabbing hold. There was nothing nautical in our daily lexicon, and despite the fact that the sea was only 50 miles away, it may as well have been on the far side of the planet, so little influence did it cast on our lives.
[hr]
The sun also rises
Look forward to great days fishing still to come, says John Aston
Viscount Grey of Fallodon was in the news again in 2014, if only to become an easy target of abuse for his role in the First World War. But I judge him by his greatest legacy, the exquisitely written Fly Fishing:
(The angler) will look back upon days radiant with happiness, peaks and peaks of enjoyment that are not less bright because they are lit in memory by the light of a setting sun.
I don't know how old he was when he wrote those sombre words, but probably not much older than I am—a day older than Sharon Osbourne, a day younger than President Putin—the classic baby boomer.
[hr]
Chub
'Old rubber lips' is a worthy opponent, says Kevin Parr
I was playing Scrabble the other day and laid the word 'launce'. It didn't score many points, but shifted some awkward tiles and opened the board up a bit. I half-expected a quizzical frown from my opponent, or at least a raised eyebrow, but they just flicked the tiles around their rack and left me thinking of sand eels.
[hr]
Funky Kingston & The Eye of the Tiger
The quest for angling immortality, by James Boo Gilbraith
Funky Kingston by Toots and the Maytals is playing in my space capsule. Today's fight path is to briefly dock with the cracker factory for a suffocating eight hour mission, then safely slingshot out of its unhealthy atmosphere and re-enter the mother ship currently cloaked as a terraced house in Clitheroe, Lancashire. Toots is lighting up the cockpit like a cosmic supernova and is displacing the January gloom with a weight of warm images. Funky Kingston is where I think I'd like to be right now; thoughts evoked of smiling faces, cool rhythms, bright vibrant colours, roborant smells and hazy sunshine, a lovely lifting sense of pace and infectious optimism glides through the track. Toots asks us to believe what he says and what he does—too late Toots, I'm way ahead of you. If Funky Kingston was a person I'm sure he would be a fisherman and that he would be bloody brilliant at it. He would be the infamous guy who everyone has heard of but nobody has ever met.
[hr]
Fish watcher
The close season provides the perfect opportunity to observe, says Les Darlington
On a recent visit to see my Mum, she produced an old, red driving licence first issued to my Dad, in provisional format, in 1941. Attached to the inside of the cover were the annual licence renewal slips, including one issued five years later—On His Majesty's Service—that he had acquired when he served in Malta with the Royal Navy. The others traced his movement around a small corner of the West Riding of Yorkshire, and included the place where I was born, Bottom Boat. With a place of birth such as that, I was sure to end up being either a sailor or a fisherman?
[hr]
Hung Goat Cantos
Part Two: Hired Men with Crabtree Sticks, by Dexter Petley
Regrettably, we can't expect waters to remain as they are if we love them, when we loved them. In France, they can wither before your eyes, leave you forlorn, bereft. Public waters are too accident prone to depend upon, so disloyal to the angler. Someone always has their eye on them. Pompous mayors, private investors, cack-handed carp clubs, the greedy whoever they are. The French seem to prefer things transitory; easy come, easy go; stock it-catch it-slay it. No tears are shed when things turn sour. An indifference for the loss of nature, the Gallic shrug which assumes abundance, the vacuum will be filled, even if it isn't fishing.
[hr]
At the end of the day…
Some angling detritus, thoughts, plans and ideas
[hr]