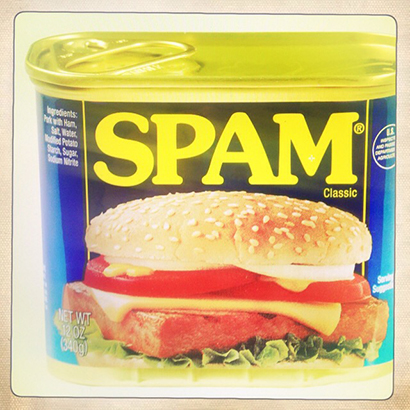 In a former guise, Fishpool spent a fair bit of time touring the country and sampling the delights of roadside snack vans. His favourite, and there was a lot of competition, was tucked away on an Industrial Estate in Stockport. The menu, rather like that well known Monty Python sketch, was extensive – as long as you liked spam.
Spam first appeared in 1937 and was a staple part of the US serviceman's diet in the Second World War. At some point since, (and if anyone knows exactly when please email the editor), a fisherman opened a tin of processed meat and impaled some on the hook. One can only imagine that a fishy response was immediate, as a tin of spam or luncheon meat is a staple bait for any self respecting barbel or carp angler.
Everyone has their own favourite brand, but Spam itself is hard to beat. It has a solid consistency that keeps it on the hook for multiple casts and some anglers, such as Ray Walton, have turned its use into an art form. I wonder if he knows how good it is on a barbeque?