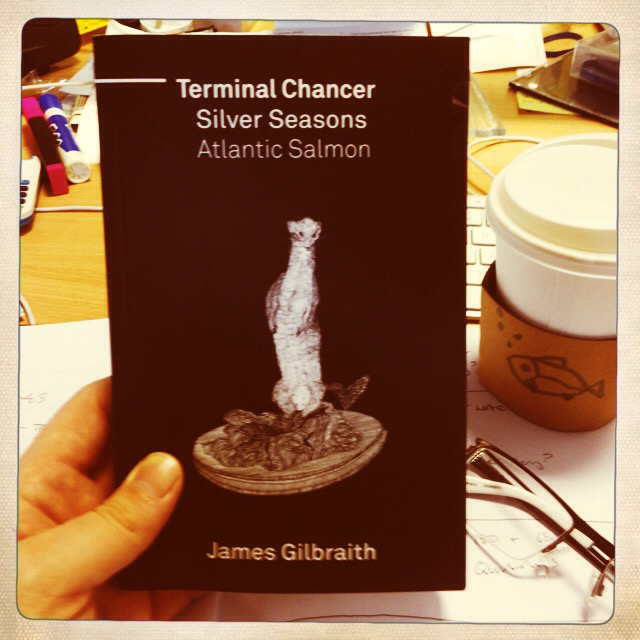 (The Guild of Reason, 2014)
Nowhere in my fishing library is there a book anything like Terminal Chancer. Why exactly? Well, it's difficult to say, but if part of the purpose of a book is to entertain, then this does it supremely well.
It is a memoir that will resonate with a lot of anglers: man works in factory, has family responsibilities, and doesn't fish enough. Sickies are pulled, schemes to skive off work are perfected, duties are dodged, every effort is made to fish his local salmon river, the Ribble. Among his peers, including the ancient Ahab and the eccentric and hilarious Lamont, there is a coveted trophy, the Salmon Weasel, awarded yearly for "Catching an Atlantic Salmon by being on the river when you really should be somewhere else, ie at work, at home, doing shopping, DIY, with the kids, some other shit…" This is the story of one such year.
This book came everywhere with me. Wherever I could snatch a moment of privacy, it was delved into. Strangers would stare at me on trains as I spontaneously burst into laughter, my family would knock impatiently on bathroom doors as I over-occupied crucial household facilities.
It is a thoroughly modern angling book, about a normal, modern man and his passion. It even comes with its own recommended soundtrack: Arrow by Heartless Bastards, Bummed by Happy Mondays, The Very Best of Maria Callas by Maria Callas…
It is not an instruction manual, nor a how-to guide, but within its pages lie an honesty of language and message that few people ever manage to convey. A lot of writers wrap themselves in another cloak when writing, adopting a language that is not their own, but Gilbraith has no such problem. He lives in the 'now'. He uses his own, everyday language, and describes his life as he sees it. I have never read an account of an angler fishing while on an acid trip (as Gilbraith did when a younger man), but I wish I'd been there to see it. His easygoing nature and oddly witty perception are expressed hilariously with a brilliant turn of phrase. This man has a mind worth getting to know.
This unique book is very much warts-and-all, and as a self-published work, it wears that badge proudly. I hear the author is working on a sequel. I can't wait.
Review by Garrett Fallon, Dec 2014