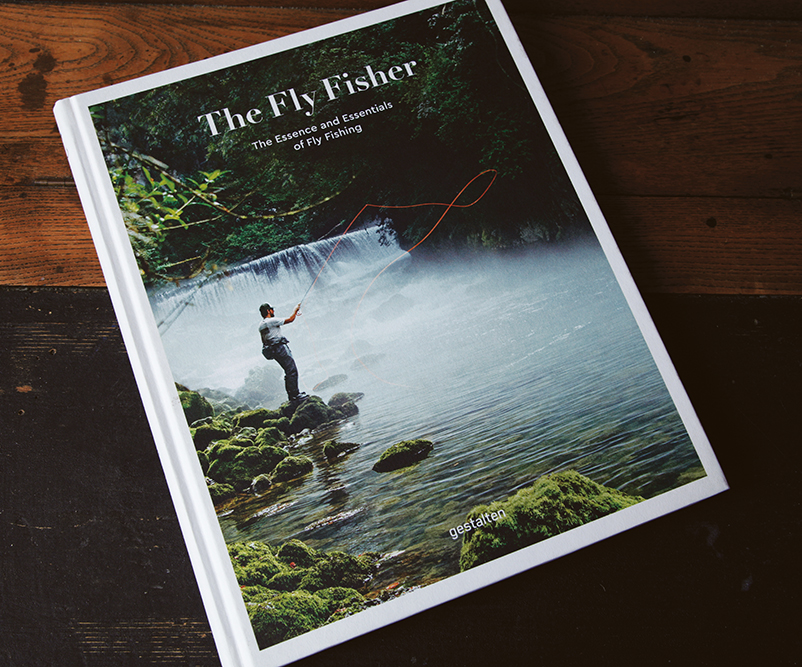 (Gestalten, 2017)
The Fly Fisher is a reflection on what is happening in the magazine publishing world, with a move towards a design-based aesthetic. Its roots clearly lie in magazine design, but as 250-page hardback, this is clearly not a throwaway monthly, but a coffee table book that accommodates a digestible format, a book to cherish, an antidote to the online 'one-swipe-and-it's-gone' mentality. It follows the story of fly fishing from its origins through to the contemporary global angler; modern anglers who look to absorb themselves into the landscape, to appreciate their surroundings. This is a curated compendium of both tradition and the new wave.
The book is devoid of advertising or advertorial features, and pages are laid out with space to breathe. The history of fly fishing starts proceedings, moving onto tackle development including the importance of the Hardy brothers. Visually, the reader is seduced from the off with imagery of old and new tackle.
The Fly Fisher mixes instructional diagrams on casting and fly tying, and illustrates the key fly fishing species before finally taking the reader into more personal features that focus on anglers and their stories. The reader journeys around the globe touching down in Japan, Bolivia, Africa, Europe, the US, including Alaska, Russia, South America and the inner cities of England with our very own Theo Pike. This eclectic choice keeps the reader engaged throughout.
Despite the non-stop tour the pace is slow and thoughtful, the photography inviting the reader to explore more than just the fishing. It is apparent that there is a younger generation of passionate anglers who look at the condition of our rivers as a barometer for the health of our planet. This compassion and concern for the wellbeing of nature is apparent throughout the book. In recent years the sport of fly fishing has been accused of adopting a macho personality but thankfully The Fly Fisher has avoided this. There are no images with over hyped reactions and aggressive fish posing; everyone seems relaxed and at ease, there is no hysteria, just a sense of contentment and achievement when it all goes right for the angler.
The Fly Fisher has brought together a careful selection of anglers, stories and locations. It's not cheap at £40, but this book is not just a vanity project. The writing and productions values are well worth the cost of a bottle of malt, and personally, I would buy the two and take time out to enjoy them both.
Review by Nick Fallowfield-Cooper