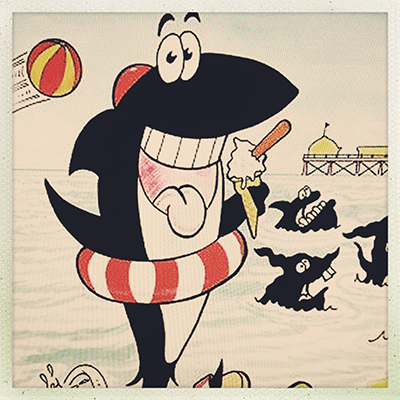 Regular readers of Bits and Pieces may have noticed recent issues have been dotted with the dorsals of sharks. But having dabbled with great whites and six-gilleds, Fishpool feels it is about time to pay heed to the most extraordinary group of sharks in existence. The Pathetic Sharks (Carcharodon Patheticus).
Readers of Viz magazine will no doubt already be nodding their approval – this shoal of useless fish have been spreading apathy for more than 35 years, and throughout that time they have shown few signs of being able to knuckle down and get scary.
The problem is that the Pathetic Sharks have no idea of how to behave. They do not realise that they are the most fearsome predator in the Oceans, and instead, when approaching humans, will ask for crisps or toffees. They find themselves in increasingly daft situations. Inspired by the exploits of Tim Henman and Andy Murray they attempt to visit the Wimbledon Tennis Championships, only to discover that the tickets they purchased on Ebay are nothing more than the dead stubs from bus tickets.
All the while people scream in fear at their appearance, only to realise, with a slight sense of disappointment accompanying the disdain, that 'These sharks are crap!'
They truly are….