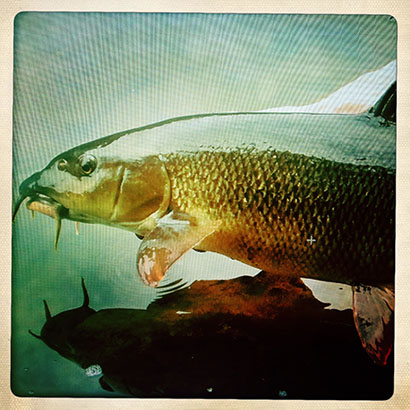 Before anyone leaps up and thumbs back through their leatherbound Bits and Pieces archives (that is what everyone does with these words each week – isn't it?), Fishpool is well aware that the barbel (barbus barbus) featured in Issue 14. Sometimes though, rules are made to be broken – and besides, in the world of Bits and Pieces (where Fishpool is omnipotent (if that's okay with you, Mr Fallon, sir?)) anything goes.
And so we come back to the barbel. But not any old barbel – this is an altogether different animal.
The barbel is not native to the Wye, and was not caught regularly until the 1970's. In the previous decade fish were stocked into the Lugg, a tributary of the Wye, and it is reasonable to presume that the current population had roots from that initial introduction. Barbel have been 'helped' into a variety of rivers through the years, though, and it is also likely that illegal stockings were made into the Wye. Whatever the source, the fish have thrived.
The Wye is a big, powerful river that can rise by several feet before your eyes. In such clean, strong currents Wye barbel do not grow as fat as they have on other rivers, but are lean and strong. The scales look as though they have been edged with tempered chocolate, and the fins are vast and lightly blushed in pink. They are a truly fabulous fish…