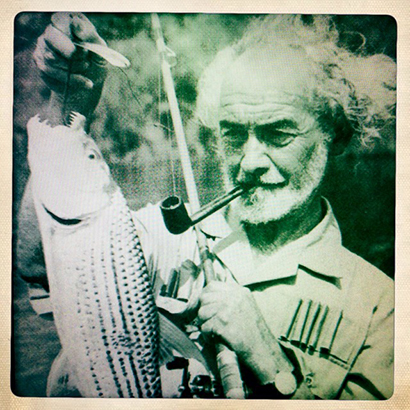 Born on St Valentine's Day 1907, in Catford, south-east London, Bernard Venables was just 6 when he began fishing. His first forays were made on the network of drains and ditches on Romney Marsh, though his early career formed around his other great passion, art. Having studied at Croydon School of Art, Venables subsequently worked at the Daily Express and then the Daily Mirror – the latter for which he drew and wrote an angling cartoon strip – Mr Crabtree Goes Fishing (see Things we Like).
In 1953, Venables was approached by broadcaster Howard Marshall, who harboured an ambition to produce a nationwide fishing newspaper. With Bernard as editorial director, the Angling Times was born, and by 1962 it was selling 170,000 copies per week.
Venables left in 1963 to set up Creel – a magazine that showcased fine writing rather than news stories or catches (sounds a good idea, that…).
And all the while, Bernard was fishing. He enjoyed all disciplines, as happy casting a dryfly for small brownies as he was catching giant six-gilled sharks (see Fish we Like). He died in 2001 at the age of 94 – casting until the end.