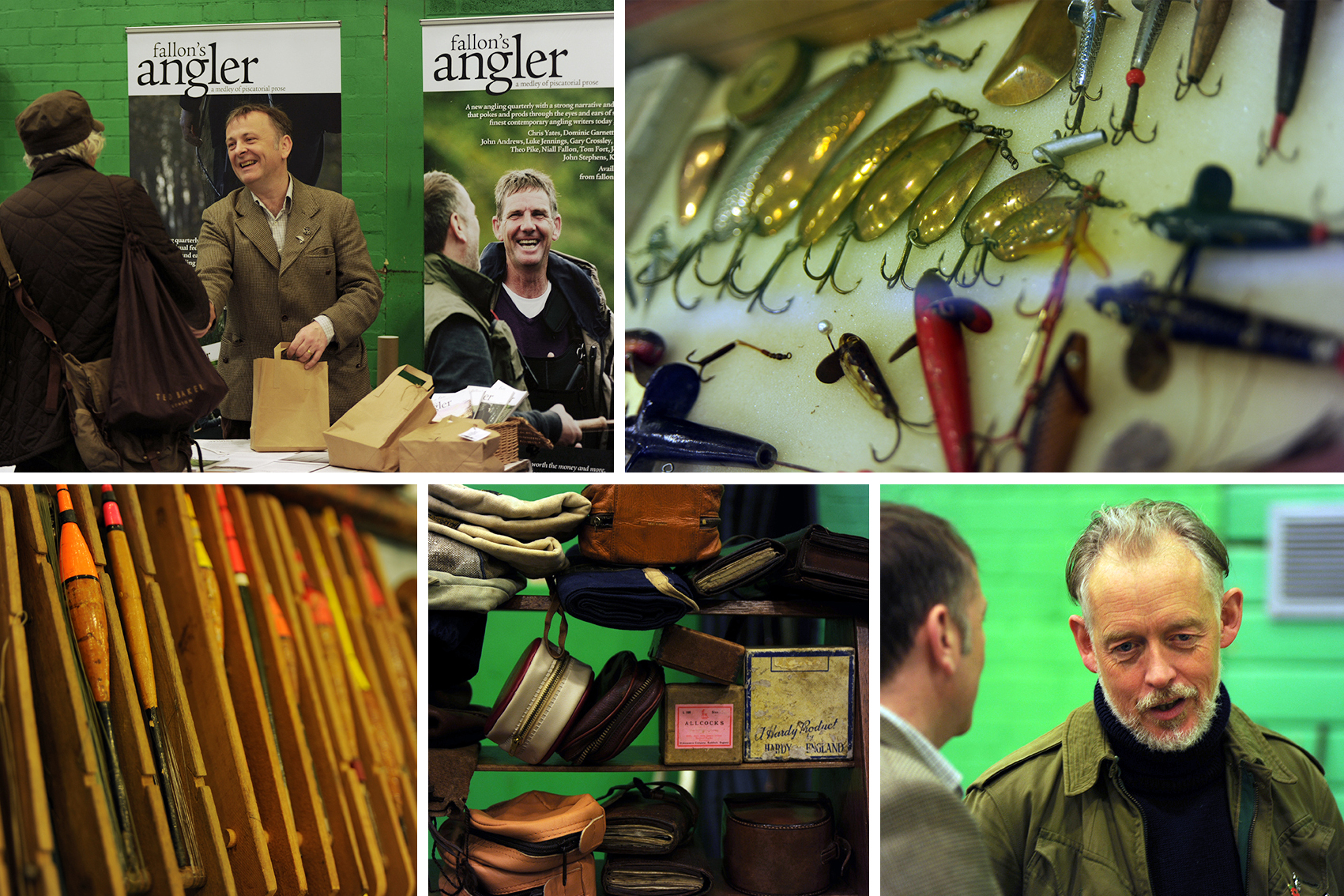 My older brother spent 25 years in sales, driving all over Ireland—staying in hotels and B&Bs, attending expos and events, meeting customers—his arse sunk in the back-straining seat of his car or van, gravity doing all it could to drag his spine into the ground. He's out of that now, fitter and at least an inch taller. I can now sympathise, and I've only done it twice.
Redditch in north-east Worcestershire became the international centre for the fishing tackle industry in the 19th century. Making needles morphed into making fishing hooks, and the rest is history. As such, it is appropriate that it hosts the twice-yearly National Vintage Fishing Tackle Fair, organised by John Andrews and his team, and so it drew Fallon's Angler out of London and up the M1, and to our stall where the trio of myself, Nick Fallowfield-Cooper and Les Darlington spread the word about our wonderful magazine. It is only the second event we have done, and the extra hands were much needed and appreciated as it gave each of us the time to mix with visitors, as well as to wander and let our eyes seek out pleasure in the form of reels, rods, floats and other angling ephemera.
I recognised some faces from the internet; John Andrews (of course) of Andrews of Arcadia, Neil Freeman of Angling Auctions, Keith Elliott of Classic Angling and Paul Morgan of Coch Y Bonddu Books. Angling is a tactile pastime, and it is always good to shake hands in person. You have an opportunity to see where a conversation flows, rather than carefully editing everything you write before pressing 'send'. Whatever differentiated one dealer from another, or one customer from another, we shared a common interest in angling history, as well as its future. But a highlight is meeting customers in person, people who already own Fallon's Angler or introducing somebody to Fallon's Angler for the first time. Their eyes light up. It is a pleasure. It was a good day.
Every road trip should cross a river sooner or later, and if it doesn't, then I've been heading for too long in the wrong direction. So after the Fair had finished, we drove to the village of Chaddleworth, which lies just below the southern slopes of the Berkshire Downs. We were planning to fish the following morning for chub, and the Kennet flowed not far from there, and I had a measly personal best to try and break. Having driven so far from my family, I needed to take any opportunity to wet a line. Daylight departed quickly on route as if we'd passed through a curtain into a darkened room. How strange the road looks at night, two streams studded with lights flowing endlessly in each direction, one red, and one yellow, then nothing but dark and dangerous corners on narrow country roads.
Since I founded Fallon's Angler over a year ago, we have undertaken a few road trips to catch fish or to find stories, the longest being a trip to Ireland earlier this year. The temptation to stuff one's face with meaty fair is difficult to resist—who can turn down the cooked breakfast when it offers itself up so willingly?—but it all eventually weighs you down, and you miss the treats in your own kitchen. Having stayed in a well-known budget hotel before the Redditch event, we opted for the safe and not-too-heavy lasagne in the hotel restaurant, which was carefully microwaved to the point where it could have powered a small nuclear submarine. For our second night, we were pleased to be the guests of angling guide and Fallon's Angler contributor Steve Roberts and his partner Renata. The house was warm, something smelled delicious, and the lady of the house produced a lasagne that had taken four days to prepare. I was Tony Soprano stuffing my face with italian food, gorging myself on cheesy, tomatoey loveliness. Home cooked food to die for.
Over a customary nip of Whiskey, Steve displayed his latest vintage rod and reel combinations that make fishing with him so unique, and we all sat in front of a cracking log fire, plotting the following morning's fishing after having our own fires stoked by the finale to the BBC's fishing series, The Big Fish: Earth's Wildest Waters, fronted by Ben Fogle and angling's own Matt Hayes. "It must be bloody difficult to catch a fish for the camera," I said, somewhat prophetically.
The chub has long fascinated me. 16 years to be exact. For it was 16 years ago that my kind Uncle Padraic, now sadly no longer with us, brought me to the Kennet to fly fish. At the time I could easier cast aspersions than cast a fly, but nevertheless my first fish that day was a small chub of just over 1lb that I cheated from the water by lowering a wet fly right smack in front of its nose. I had one other fish that day—a 6lb rainbow from below a rapid—but the chub is the fish I remember best. We had no chub in Ireland when I was growing up, so it was a first. There is talk of a small population taking hold in the River Inny of the Irish midlands but their presence divides opinion, if they still exist at all.
But in England they proliferate. When all else fails, you can count on the chub. But they are not stupid. And though I have caught quite a few chub since, they have all been from small rivers, and have all been small fish.

The morning found us on a backwater of the Kennet and a 3lb out-of-season brown trout on bread flake first cast seemed like a good omen. I was 'laying on' and was struggling to get used to the method, but Steve's calm instruction was gradually sinking in. I have only recently learned to trot; getting used to the centrepin and working the float and bait through flowing water, and now I required the same tackle to stop and stand still while everything else raged past. It felt like putting a saddle on a horse then leaving it tied to a tree. "What the feck are these English lads on about?" I thought. But I trust Steve as an angler, and I am always willing to learn new tricks when it comes to angling. We roved around, searching for the fish, but there was a chill in the air and crayfish in the swims stole our bait, so we continued to move. 'Chub Corner', the banker, didn't even produce, the clock was ticking and we needed to depart for London no later than 2.30pm. Fishing for the camera, dammit.
This part of the Kennet is a maze of backwaters and cuts through fields and woodland, with the receding hairline that comes with the passing of the seasons as the warm sun was distracted elsewhere. The colours of Autumn were dulling further as Winter showed on the horizon. Gone are most of the vivid greens and the bright splashes of flowers. Greys and browns instead are the dominant palette, and the water is a soup of fallen leaves. But it is beautiful, and sympathetically managed, and thick bankside reeds provided a pleasant illusion of wildness.
A shout came from a few yards farther down and the sound of the centrepin screaming confirmed our photographer Nick had the first chub of the day. There is a point when the chub reaches a certain size that it sheds a sense of delicateness and adopts the posture of the robust, like sending your boy off to boarding school and he comes back a man. Its shoulders get higher and broader, its belly dips low beneath its head before rising to a thick tail, and its mouth… well, it could eat anything that fitted into it. This was such a fish, a fine fish, and encouraged by it we continued to move, as the clock continued to tick and time slipped away.

We were fishing the main river now, and some trees on the far bank stretched their branches almost half way across it while underneath a submerged bank made the flow narrow and push against the near bank, undercutting it. I was tired and mildly irritated by the pressures of time, and had determined not to fish under such pressure again. But I was getting the hang of the method and cast into the flow, barely three yards out, and let the bait edge its way down—helped occasionally by working the rod and mending the line—until it stopped on a near side shelf and the float settled into position, with the rod facing downstream. I nestled into the grass, the rod resting on the reeds, and lit a cigarette, while Steve sat behind me and we chatted and joked. I had finally forgotten about the time. There was only the company and the river. Suddenly the float twitched, then disappeared, and I struck. It was a good fight, with the fish threatening to dive under the near bank, but the Chapman Quinette had more than enough backbone and it was soon netted. We chuckled at the timing of it. "That's the smallest chub I've seen from this stretch," Steve said almost apologetically. It was certainly no monster, but it was a very welcome fish indeed.