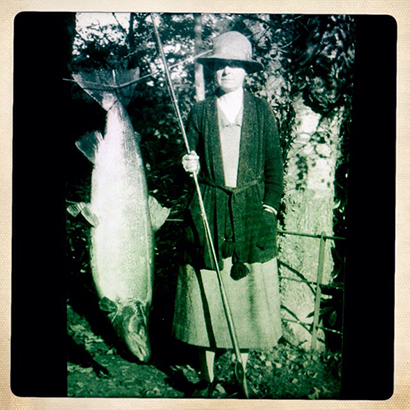 Many anglers are aware of Georgina Ballintine (see next week's Bit and Pieces) and her capture of Britain's biggest salmon in 1922. Fewer people, however, know the name Clementina Morison—yet many who do consider her more deserving of note than Miss Ballintine.
In October 1924, Clementina (known to many as 'Tiny' due to her slight stature) was casting (with a Brown Wing Killer) into Lower Shaws, a well known pool on the River Deveron (see Places we Like).
Having already caught a brace of 16 pounders and a fish of 12 lb, Tiny was clearly finding her rhythm, and the next salmon she hooked was a little bit special.
It took half an hour to ground, and though Tiny then managed to drag it up the bank by its gills, a horse and cart were required to take it back to civilisation. It would have lost weight before it was put on the scales 24 hours later, yet still it pulled the needle to 61lb. It remains the largest fly-caught salmon ever taken in Britain. Hats off Tiny!