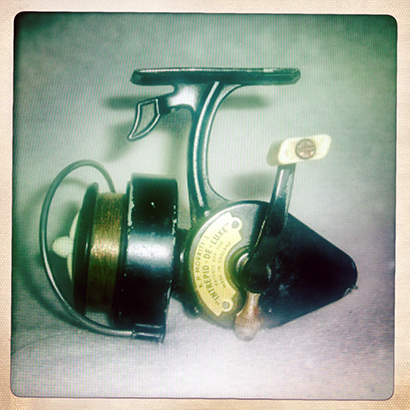 Being only 21 (or thereabouts…), Fishpool only recently discovered that there was life before the 21st Century. Apparently, the was a time called 'The 1960s', when people drove round in yellow submarines powered by flowers, and everyone flew to the Isle of Wight on a Jefferson Aiplane where they rolled stones and reminisced about Snoopy's friend, Woodstock.
And anglers were split into two groups. Those that owned an Intrepid Deluxe and those who wanted one.
Ken (KP) Morritt began manufacturing fishing reels soon after the end of the second World War – initially specialising in fly and spinning reels. Working from a factory in Cheam, Surrey (before moving to Falmouth in Cornwall in 1968) his models were not machine made but die-cast – a process where molten metal is forced into molds at high pressure. Once the molds were set, reels could then be made quickly and in fairly large number, and the Intrepid range of reels (under which banner Morritt manufactured) soon gained huge popularity. The Deluxe was arguably the most popular of all – a no-nonsense fixed spool capable of housing 100 yards of 10 line.
Plenty of these reels are still around today, and as such are very affordable second hand.