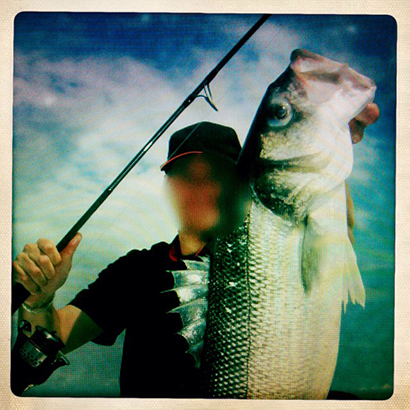 As it entered its final day, the 2012 Bailiwick Bass Club Open competition looked to have been won with a cracking fish of 10lb 3oz. But then, from nowhere, Guernsey angler Matt Clark arrived at the weigh-in with a whopper. A 13lb 13oz bass – a monster of a fish that won Clark a rather handy £800.
A fellow competitor smelt a rat though, and made noises of his discontent. He recognised that bass and a phone call confirmed his suspicion.
With an outstanding debt hanging round his neck, Matt Clark had hatched a cunning plan to win the contest. Using a rope ladder he broke into the Aquarium in St Peter Port where he had previously worked, knowing that a bass in one of the tanks was a decent double-figure fish. Having taken it, he then casually wandered into the tackle shop for the weigh-in, claiming to have caught the fish from the rocks at Beaucette.
As he was congratulated though, fellow competitor Shane Bentley noticed the markings on the bass' head, and recognised as the fish he had seen days before in the aquarium. Clark was arrested, confessed and was ordered to do 100 hours' community service.