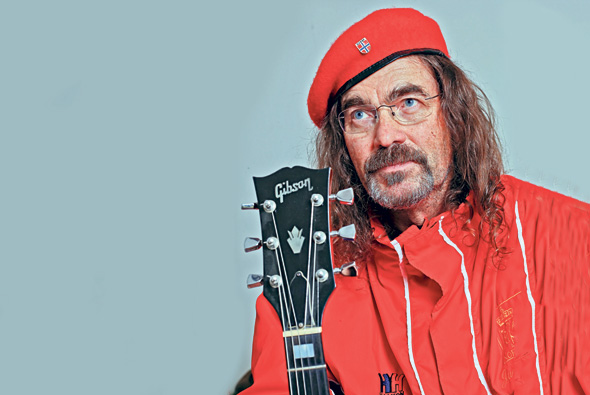 A tribute by Kevin Parr
I am obviously not going to bother to look, and nor would I suggest anyone else does, but nevertheless I'd be astounded to read anywhere a bad word about Jan Porter. For someone who put himself out there, certainly when creating his image as the Man in Red, Jan came across as a man who may have had confidence in his own ability, but was wholly honest to himself.
Having started out as every fisherchild should, with a tadpole net and a fascination for life in the smallest of puddles, Jan was introduced to proper fishing by his father—an avid and able angler himself. His first catch of note, and the fish that likely cemented his angling obsession, was a perch of around 6oz. A fish, that many years later his father admitted to have actually caught himself before hooking it on his son's line when Jan's interest was beginning to wane.
Though he developed a rapid aptitude for fishing, Jan also had a love of music and electric guitars, and in 1972 his rods were stowed for nearly six years as he embarked on a glorious attempt to become a rock star, but which—luckily for us anglers—didn't quite work out.
On returning to the riverbank, Jan was soon spotted by Trent Matchman Johnny Moult, who suggested his natural ability would suit him well on the open match circuit. Jan gave it a go, but initially struggled—and recognised that he would have to expand his knowledge to succeed. Fortunately, his fellow Trent anglers were happy to share their knowledge, and in time Jan learned to fish the waggler as well as the stick float. His first Open win came in 1979 and was followed by over one hundred more. Jan joined the Trentmen AC, eventually becoming Captain, and in 1983 won the Individual Title at the Division One National. Alongside a string of club honours, both nationally and internationally, Jan was approached by Dick Clegg to fish for an England Select Team, though he latterly represented Norway (the country of his mother's birth) on the International Stage.
It was a friend of fellow matchman Pete Hobson (Starlets in Birmingham) who sowed the seed that sprouted the 'Man in Red'. Jan owned a Tackle Shop "Jan's Tackle" and in order to promote himself Pete suggested he find himself an image.
A girlfriend had once given him a red beret which he decided to wear to matches. It caused quite a stir, so Jan coupled it with a red Coca-Cola outfit—feeling the colour was representative of his Norwegian heritage and also Brian Clough's all-conquering Nottingham Forest side. With his long, occasionally bleached-blonde, hair and red-rimmed glasses, Jan became one of the most iconic figures in angling. And he certainly had the talent to match. His match record stood alongside anyone, although his catching skills didn't necessarily encompass every 'branch' of the sport.
In a televised fishing match with Chris Yates, he was soundly beaten. Chris bagging up on perch, pike, bream and carp while Jan only caught gudgeon. That they were actually partaking in a game of Magnetic Fishing is perhaps a rather telling detail, though Chris did have a part in Jan's later reinvention as a specimen hunter.
Having lost his competitive edge, Jan found himself mesmerized by the television series A Passion for Angling (starring Chris and Bob James). He realised that he had lost the spark that he had on his first childhood fishing trips, and that to rediscover it he needed an absorption in the natural world.
He went out with a just a lure rod and landing net and caught a jack pike that stirred him in a manner that had long been missing. Thereafter, he sought more solitude in his angling, and targeted those fish that would have been beyond the reach of his match-angling self.
Of course, Jan being Jan, he didn't go about it half-heartedly. Gone was the Man in Red, replaced instead by the Man who Wasn't There. Jan went Camou-crazy, wrapping himself, his gear and at one point even his van, in RealTree camouflage. And he caught some big fish. Really big fish. Carp over 30lb, a trio of tench over 9lb, alongside big zander, chub and pike—and in every photo he smiled, because fishing was something to be enjoyed and because he didn't take himself too seriously.
I never met Jan, but have spoken to people who have, and their words are only echoed by those who knew him well. It seems he had that rare gift of self-awareness. Confidence matched in equal measure by humility. If he was at fault then he would be the first to acknowledge it, and such honesty is a quality all-too rare in a man, let alone a fisherman.
Jan fought cancer for many years, and for far longer than was hoped, but he succumbed on April 27th, leaving a wife and two children who can be utterly proud of their husband and father.
 *Jan died at the Myton Hospice in Warwick and his family has asked that anyone wishing to support the charity-run hospice can donate on www.justgiving.com/Jan-Porter1955