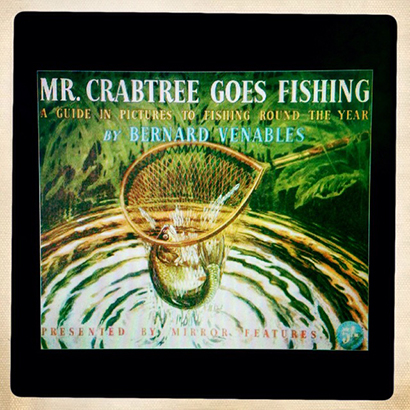 In 1946 the Daily Mirror signed to its ranks an artist by the name of Bernard Venables (see People we Like), who created a gardening cartoon featuring 'Mr Crabtree'. OF course, as any sensible person knows, angling is a far more productive use of time than gardening, and within a year Mr Crabtree was going fishing.
The subsequent strip was a huge success, and in 1949 a book featuring the fishy adventures of Mr Crabtree and his son and apprentice Peter was published. Mr Crabtree Goes Fishing has since gone on to sell more than 2 million copies worldwide, and in recent years has inspired the well-received television series – Fishing in the Footsteps of Crabtree, under the watchful guidance and steady hands of John Bailey .
The ethos of Crabtree is its most defining quality. Peter is shown how to read the water, how and why a specific fish might be caught, and all the while the reader feels it first hand. The artwork gives the book a sense of the present – the heart-rate quickens with the dip of the float or the flicker of the bread bobbin. And despite being over 65 years old, the methods still work.