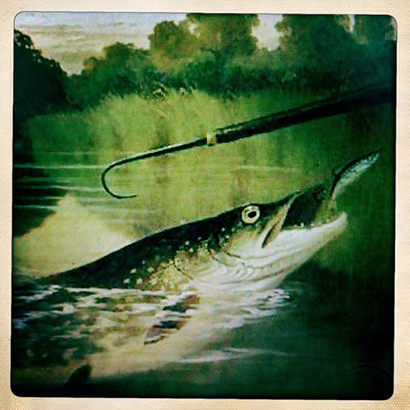 Before you think that Fishpool has been sniffing hongeohoe (see Bits and Pieces Issue 15) or has had one too many bottles of Barbus Barbus (see Bits and Pieces Issue 6), the aspect of pike gaffs and jaw spreaders that he likes, is the fact that their use has been all but consigned to history.
In this modern, more conservation minded world, such implements seem positively barbaric, and yet many of us will remember seeing them used or, indeed, using them ourselves. Even Mr Crabtree (see Things we Like) when playing a pike (see Fish we Like) urged Peter to 'Get ready with the gaff!'.
Of course, we shouldn't condemn the likes of Crabtree, especially when the pike itself was likely headed for the pot or the taxidermist, but it is rather nice to fish in more enlightened times. As we are now aware, the pike is a delicate creature, despite its apparent ferocity, and should be treated with great care. As a result, the 21st Century pike angler carries an unhooking mat, an array of forceps and pliers, and his hooks are rarely barbed. A glove might be used, to protect the captor from a lengthy bleed, but as much pleasure is taken from the release of pike as it's outwitting.