Written by Niall Fallon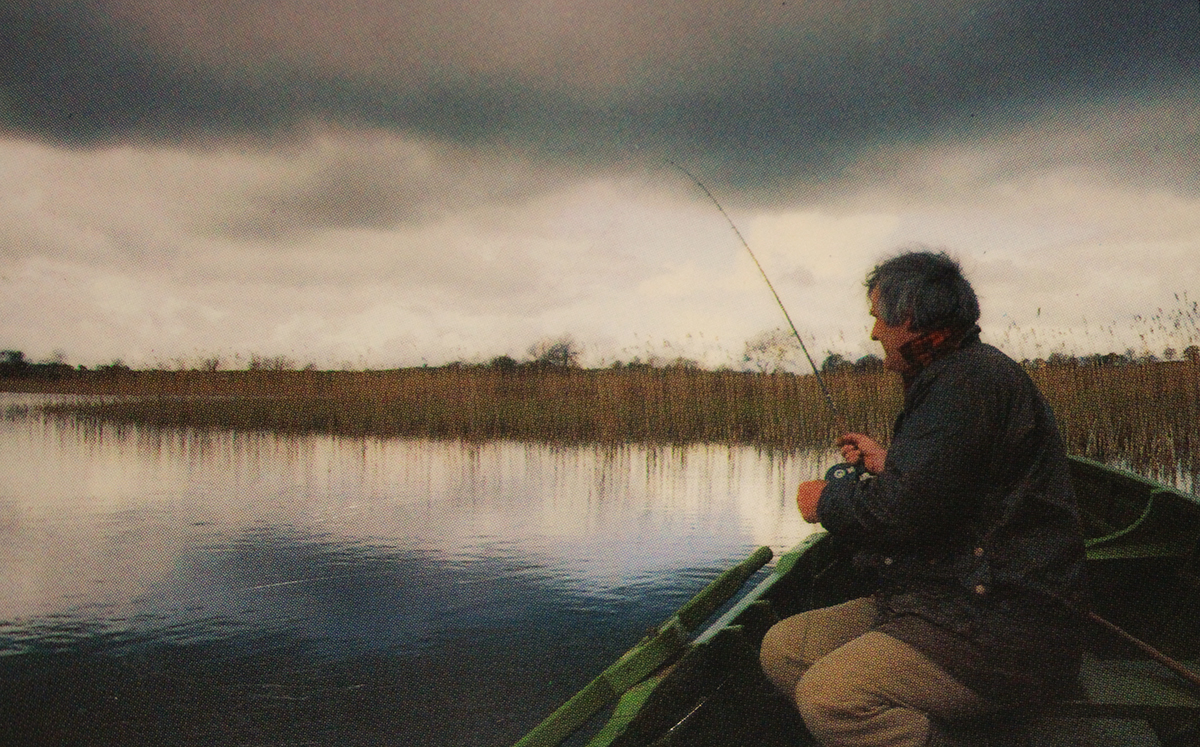 My biggest brown trout, which as I write stands nobly mounted in a case on my study wall, as stately and plump as any Buck Mulligan, was taken in total darkness on a mid-September evening on a small limestone lake. A day of wild wind and rain had been succeeded by an evening in the same mould. As darkness came, my companion Morrough (most aptly-named) and I were fishless. Then the wind dropped with the coming of night and I took a poorly-conditioned rainbow of some two pounds. It seemed our one and only fish of a dreadful day.
We were fishing out a last drift towards a shoreline guarded by dense reed beds when ahead of us in the darkness I heard a trout feeding. Several times, casting with mechanical care, did I put my Green Peter where I thought the sound came from. No rise could be seen—it was impossible to see the other end of the boat even. So I twitched the fly gently towards me.
On the third or fourth cast there came a resistance, slight, then immovable. I tightened, whereupon it became movable, sheering off to the left from where I sat in the bow. I knew the fish was big. The very power of her run (for it proved to be a hen) thrummed solidly up the line to my fingers—I play fish with the hand rather than the reel. I could not see where she ran; only by bending low and sighting against the faintest of afterglows could I tell from my bending rod where the fight was taking place.
Try as I might, I could not persuade her upwind. In front of us lay the reed beds. I lived in mortal fear lest she would run herself deep into their comforting shelter and send my cast twanging back. In the stern Morrough coped with and cursed a tangled cast.
I was aware that suddenly the boat was moving, slowly but enough to send a ripple spreading from the bow. I could not see it but I heard clearly the water parting the stem. The trout was pulling the boat along. How big was this fish?
By now the battle had fallen into a pattern. The fish cruised back and forth in front of the bow some ten or twelve yards away. I could not gain more line nor could she. Now and then she varied this procedure with a spurt—although her stately power could not fairly or with dignity be called such—straight ahead, pulling the boat with her. Such control as I had was minimal. I kept the line tight, gave her some when she wanted it, though with reluctance, and took it back when she wasn't looking.
Looking back on it all, I had throughout the battle a clear head. My fears were many but at least I could reason with them. I must not let her get her head into the reeds. I must play her tight. But my point was a bare three pounds and by this time my fly must be a sad sight indeed. Would it hold? Or—horror or horrors—would she straighten it?
I had reached that stage where I must see the fish.
"Morrough—shine the torch."
Cursing me, the fish, the night and his tangle, Morrough fumbled forward and the beam of his torch hit the water, the bottom sprang up as though looked at through the bottom of a glass. We were in no more than a foot of water and almost aground. Then there swam deliberately into the circle of light a great silvered shape, the eyes bright as diamonds. In the calm water and the torch's sharp light, I could see the slender hold of the fly. My heart failed me.
It must be now. Or not at all. I put side pressure on the fish and she moved reluctantly to the side of the boat. Morrough put the net under her in the torchlight and lifted her great bulk inboard. As he did so the net bent and the fly fell out. But she was landed. And my old Hardy scale, as accurate as any computer, put her at six pounds and eight ounces. My biggest then and still.
********
From Fly-fishing for Irish Trout, by Niall Fallon, Roberts' Books, 1983. Republished with kind permission of Patricia Fallon.
In memory of Niall Fallon, brother, husband, father, grandfather and friend, who passed away suddenly on 26th January 1996, then committed to the Irish earth he loved so much, on this day, 28th January, exactly 20 years ago. Gone, but never forgotten.