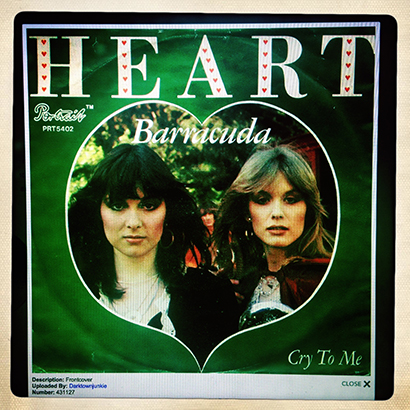 The late 1970's – in Britain Punk still ruled, though the Ska sounds of bands such as The Piranhas were becoming increasingly influential.
Meanwhile, in the US and Canada, Heavy Metal was giving way to Rock. Bands like Survivor, Rainbow, and Chicago were adding harmonies and soaring guitar solos to hard-edged bass riffs, and among this wave were Heart.
Though perhaps better known for their rousing 80's power ballads, Heart began life as a harder edged noise machine in the late 1960's called The Army, but having evolved through three name changes and a mixture of musicians they then took the name by which they are still known.
With the Wilson sisters, Anne and Nancy, at the, erm, 'heart' of the band, Heart gained ever more popularity and also unwanted slurs. In 1977, as a response to an increasing amount of unwanted and unpleasant gossip surrounding the band, they released Barracuda – a song which compared the sleaze and all round unpleasantness of the music industry to the toothy bite of a fish.
You lying so low in the weeds
Bet you gonna ambush me
You'd have me down on my knees
Wouldn't you, Barracuda?
It's an industry that'll eat you up and no mistake…