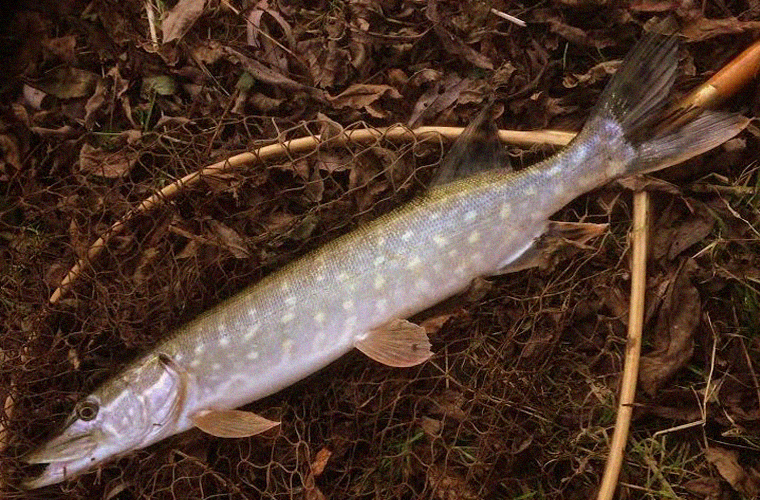 Festive television is invariably underwhelming. Full of re-makes, repeats and Christmas 'specials' that make you smile, but only because the excess of port and stilton has left you mildly stupefied.
I did watch Charlie Brooker's 2016 Wipe last evening though, and it certainly didn't disappoint. Mind you, the past twelve months have delivered plenty of material for him—and no matter where your opinions fall, it is always a relief to laugh at the absurdity of it all.
It was a reminder of a turbulent year however, and no matter how sharp you like your satire, there have been some truly solemn moments. Water offers us anglers a precious diversion at times of angst, and though (as I have previously mentioned) I have not fished as often as I might, there are plenty of calm, rippled memories to counter the maelstrom. I've caught a few fish, too—though I don't recall using my scales too often. In fact, I'm not sure I've used them at all.
I've never been an angler to have weighed everything he has caught, but neither can I pretend that size doesn't matter. I will always take a set of scales with me to the bank, and feel uncomfortable if I forget. Once, when fishing the Kennet for barbel, I realised that my scales were still in a jacket pocket at home, and ended up packing up and driving to a tackle shop to get a 'spare pair'. Naturally I caught nothing that day.
And although I have been fishing stretches of the Stour where there is every chance of catching something substantial, there is one particular piece of water where the perch that gather each winter are that extra bit bigger. It is very lightly fished, but has produced a good number of perch of over three pounds over the years. And though it isn't as productive as a decade or two ago, there are still sufficient stripes to keep me happy.
After a cold start to the month, the first winter storm had given the Stour a decent flush, and Chris and I met as soon as the level had settled. As it transpired, the river had returned to a painfully low level, with barely any discernable flow. We would normally fish fairly close in where the water creased beneath the willows, but in bright sunshine and little colour in the water, we would have to look a little further out.
I set up a light leger rod, but had a change of heart as I readied to cast and reached for a float. I had brought a second rod so decided to at least have a few casts closer in—just in case any fish were moving.
It probably took ten minutes for the float to nudge through the swim, more of a limp than a trot. But I was quite happy watching it, and decided to give it a good hour, feeding the same line, hoping that I may at least stir the minnows which would in turn excite the perch.
After half a dozen uneventful casts (which pretty much equated to an hour), Chris wandered upstream with the kettle and his thoughts. The sun was already dipping, and with the water so low and clear Chris reasoned that any feeding spell was likely to be short. We had not seen any movement from other fish (aside from minnows), and the roach in particular are normally conspicuous here. Perhaps they would be a little further downstream, where the water deepened. There at least, without the overhanging branches, I should be able to flick a legered bait out further into the flow.
I opted to move, but made one final cast with the float, and about three quarters of the way down the swim, it bobbed sharply and then slowly slid under. I waited an extra moment and then struck, feeling immediately the slow, deliberate thump of a big perch. It kited out across the 'current' and for five seconds or so I wondered just how many ounces over two pounds this fish might be. Then the hook pulled—perhaps I struck too early? Or too late? What was certain is that I wouldn't be moving swims now.
I worked the same line but no more bites came, and downstream Chris reported a couple of tentative bites. A couple of roach rolled out in mid-river and I reached for the leger rod again, thinking that the perch may well be moving in a similar area. I only had a couple of AA shot on the line, and decided to regularly twitch the bait in the hope of provoking a response. It worked immediately, and a perch of a pound and a bit was soon in the net. Chris soon had a perch of his own, and suddenly a leaden river had come alive. I caught another pounder and we both caught a roach, before Chris found himself attached to something better—and judging by his reaction, it was a good perch. I reeled and crept down the bank to help with the landing net, but Chris' monster perch had turned into a jack pike, which though a handsome fish, was still a disappointment.
The light was fading fast, and with it the flurry of action. I managed one more perch which was the best of the day (around 1lb 12oz) but still not worth reaching out the scales for.
We were back the following week, and this time I opted for a deeper swim where I found some lovely dace. In bright conditions, the perch again fed late and briefly, with similar results to the previous week. Chris even managed to catch the same small pike, though this time he guessed its identity immediately.
And so a new year approaches and only eleven weeks remain of the season—and my scales remain unused. It really shouldn't matter, but I have missed that lovely nerve-jangling excitement of hooking (and hopefully landing) a big fish. There may be a chance before season's end. I will return to the Stour, but also hope to visit the upper Kennet, where the perch may not be present in the numbers they once were, but the odd monster may still lurk.
In the meantime, I wish everyone a very Happy New Year!