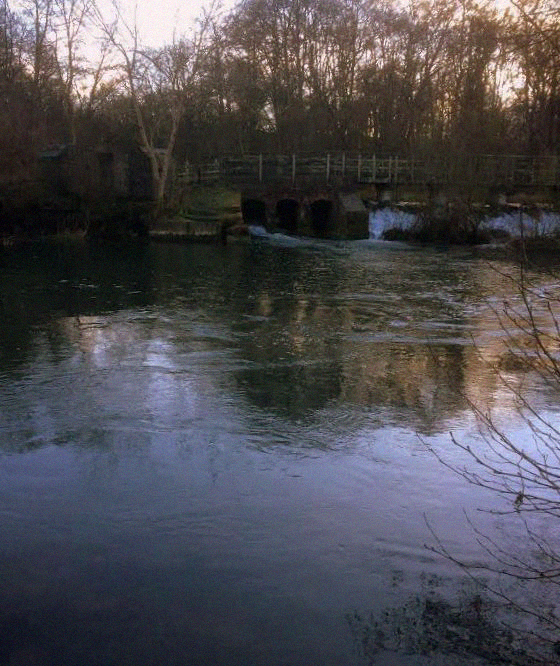 I'm not entirely sure where February went. One moment January was dragging its feet and a couple of blinks later the blackbirds are singing and March is upon us. The thin end of the coarse season always seems to rattle by, but I did manage to make it out three times over the past month, to somewhat contrasting venues.
Much of my winter fishing has seen me fishing light and running a float through steady glides in search of roach and dace, species that I hoped again to find on the Dorset Stour.
The swim I chose was quite different to the sparkling runs on the Avon. The current was split beneath a road bridge, with the water on the nearside forming a slow, though surprisingly shallow back eddy. I had hoped for a foot or two more than the yard of depth I found, but having pinged a few maggots beneath the bridge was not surprised to see the float dip within seconds of casting.
A chunky roach was followed by a couple of shoal mates before the dace came marauding. I was soon into a vague rhythm, feeding half a dozen maggots and then casting over the top. Bites were swift and almost exclusively from dace, but occasionally the bait would settle long enough for a roach to find it.
I was enjoying myself, especially as the rain—that had been steady—began to ease at lunchtime. The change in the weather saw Chris arrive and he opted to fish at the tail of the pool where twelve months ago he had caught a roach of over 2lb. Here a small sidestream entered the river and a deep run formed where the conflicting currents met. It looked good, but unfortunately the morning's rain had obviously dislodged top soil form further up the stream and the water began to take the colour of mulligatawny soup.
I continued to catch fish beneath the bridge, but soon the soup worked its way up to my swim and bites immediately slowed. I could pick off the occasional fish, but the rest of the day, like flotsam in the rising waters, drifted without too many interruptions.
I very rarely chase fish, though like most anglers I am a sucker for a good story. So when word came that Martin Bowler had been perch fishing 15 miles from our cottage (and caught a three pounder) it seemed silly not to follow it up.
I visited Warmwell Fisheries with an open mind, though I felt rather exposed as I put up a rod among the lodges and tarmac. Nevertheless, the thought of casting into water thick with huge perch was still smoothing over the rough edges.
I began in a corner where the margins on either side were suitably untidy. An alder provided cover to my right, while a tangle of bramble offered shelter to my left. I would have preferred more depth—the water was only around 18 inches deep—but having baited up both spots I felt confident as I threaded the rod rings.
My mood was misguided, and after a biteless hour I went for a little wander. Two other anglers were fishing, similarly inspired by the perch rumours, but also scratching their heads. They had fished since dawn and were yet to find any perch, though a small carp had provided brief excitement.
The chap in the tackle shop had advised I look for roach activity and fish those areas, but small fish were topping all over the lake without any apparent pattern. Instead, I decided to keep mobile, and having put a few bits and pieces in my pockets, left all but my rod and net in the boot of the car.
I gave any likely looking spot around quarter of an hour before moving on, but nothing stirred. A change to worm (from prawn) brought bites, and a couple of roach (on a size 6 hook) before a small carp caused a few problems in a tight swim. The other two anglers cut their losses and headed for home, but I was determined to see it out until dusk. With the light almost gone, I lowered a prawn beside the base of an old tree stump and the float shot away. For a moment I thought I may have a found a perch, but the fish powered off in familiar carp fashion. It was a solid fish, around 8lb, and took some minutes to subdue, by which time I was ready for home.
I don't doubt the perch are there, but I'm not sure if I will return. Unwittingly coinciding my visit with school half term week probably didn't help, but I came away keen to get back onto running water once more.
That opportunity came via an invitation from Keith Armishaw, of River Reads and Angling Heritage, who asked Chris and I to join him on the upper Kennet. Ed Whitby was due to join us but got caught out by a nasty cold, and Chris and I were waylaid by the traffic, so Keith fished on his own for most of the morning.
There was a worrying lack of water in the area. One carrier that had produced good perch in the past was only an inch or two deep, though Chris and I found an incredible number of fish holed up a short, deeper section. There were lots of bream, roach and dace, good chub, and a couple of perch and pike all rubbing fins like sardines in a tin.
We left them be and instead found Keith on another sidestream where he had already found a few dace. I continued down to the bottom end where the stream met the main river in a weirpool. An hour on the float produced a string of small roach and an acrobatic trout before we broke for tea.
I mentioned my regret at not having a tin of luncheon meat in my bag, as the pool looked likely to hold a barbel or two, and I hadn't caught one this high up the Kennet before. Keith grinned and reached into his bag—he never leaves home without a bit of spam to hand.
I spent the rest of the day searching out the weirpool. Another brown trout, of over three pounds, provided some entertainment, and I bumped a fish that was likely a chub. The barbel remained elusive, though Chris and Keith had some late afternoon adventures of their own…