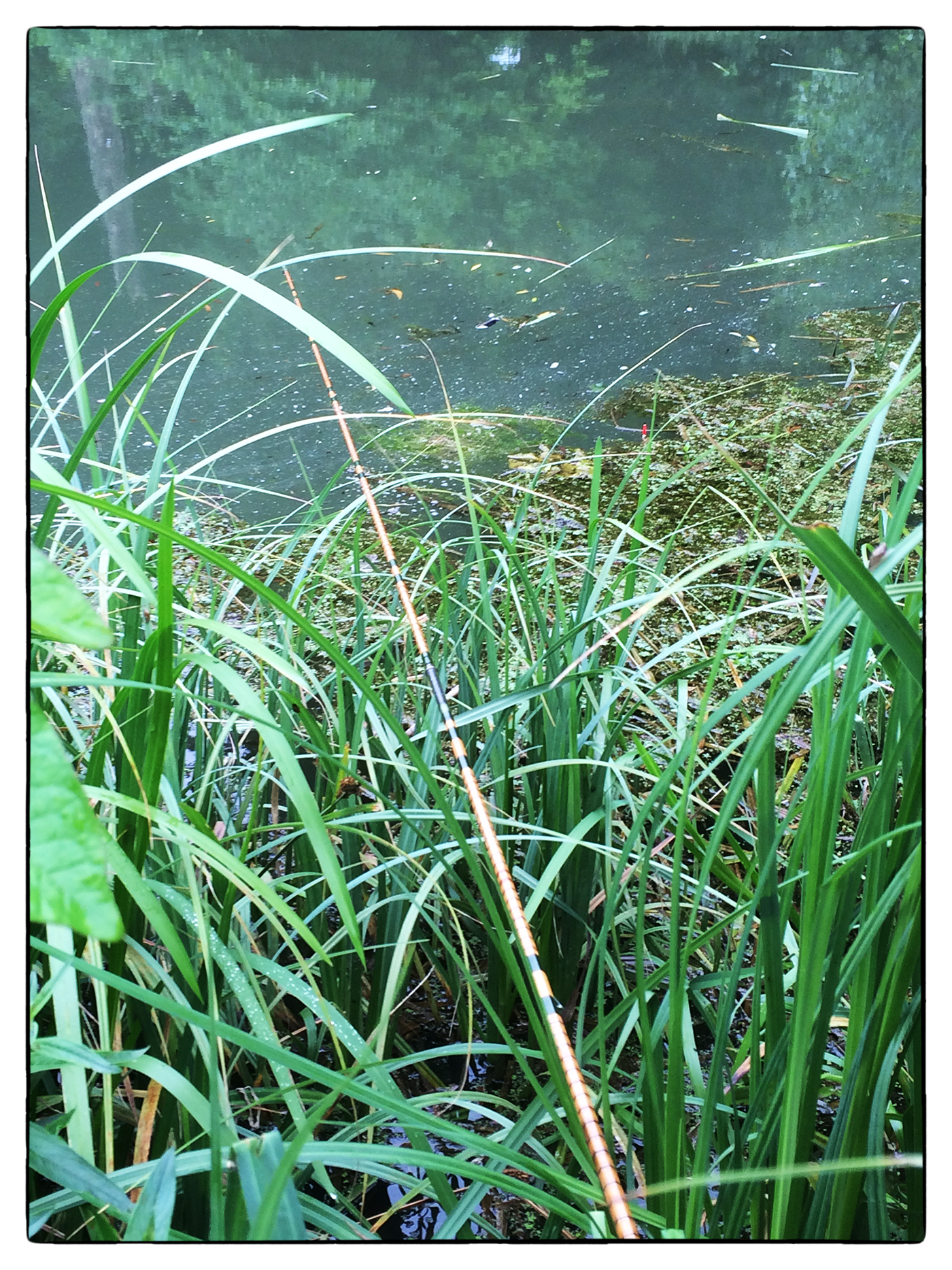 It is at least three years since Martin last cast a line. Work and family pressures, coupled with a lack of transport, have kept him dry for far longer than most anglers could bear. After such a period of abstinence, there is only one way to fully reconnect, and that involves an early start, dusk finish, and the sight of a few tench bubbles on one of the longest days of the year.
The lake is nearly an hour from home and our journey was slowed by the song of corn buntings, but still we made it to the bank a few minutes after six. Merv was already there, making the most of his first Opening Day for sixteen years (due to a poor bit of strategic family planning) and was making his first cast just as we arrived. By the time Martin and I had poked our noses into a few potential swims, Merv was catching his first fish—a monster tench that morphed into a handsome little common carp just as it rolled into the net.
**********
Our swim choices were a bit more limited than we had expected, some over-exuberant tree clearances in the Close Season had changed the landscape considerably, and freshly topped tree stumps were the only reminder of a couple of favourite tench-filled hideaways of previous visits. As it turned out, Martin and I both fancied the same spot, a near-bank hole with a strip of reeds and thick weed pushing a rod length out into the water. Unfortunately for Martin, by the time he acted on his instinct, I was already in place, and our hunches proved right. After a couple of dips and a bump I connected with a fish that bored hard into the weedbed to the right and took a bit of shifting. A tench of 3lbs or so was the perfect start to my new season.
The swim was soon bubbling again, and Martin dropped in for his own chance. He missed a good bite, but a small ball of groundbait seemed to keep the fish fizzing. The float dipped a fraction, but as the sun cleared the treeline to the south-east so everything instantly slowed, the surface seeming to flatten and the fish retreated back into cover.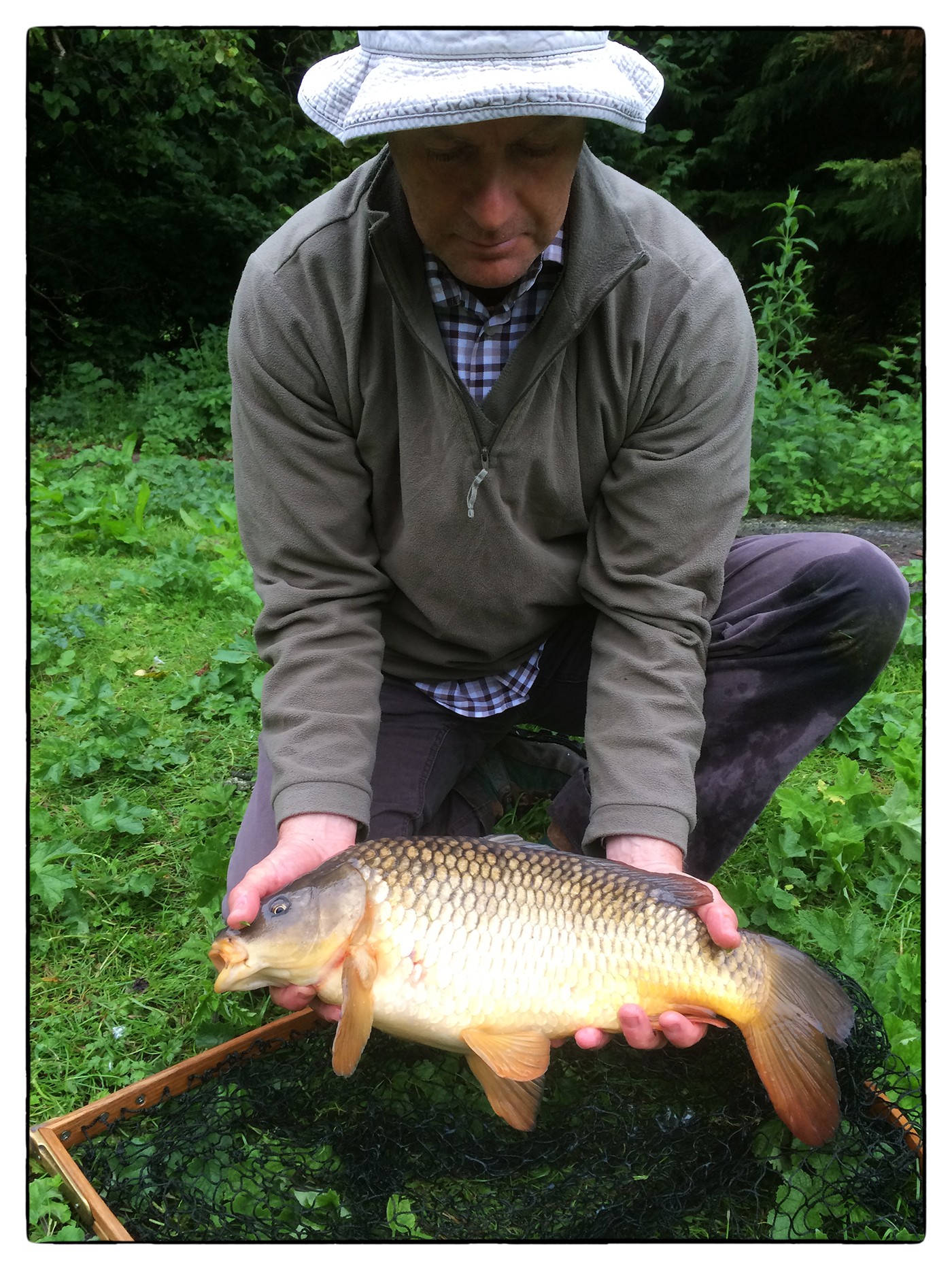 On the far bank Merv was cooking bacon, and he seemed tohave a loaf of wholemeal and real butter to go with it. We hurried round, I lit the Kelly Kettle for an essential liquid accompaniment, and we enjoyed a late breakfast as we compared notes.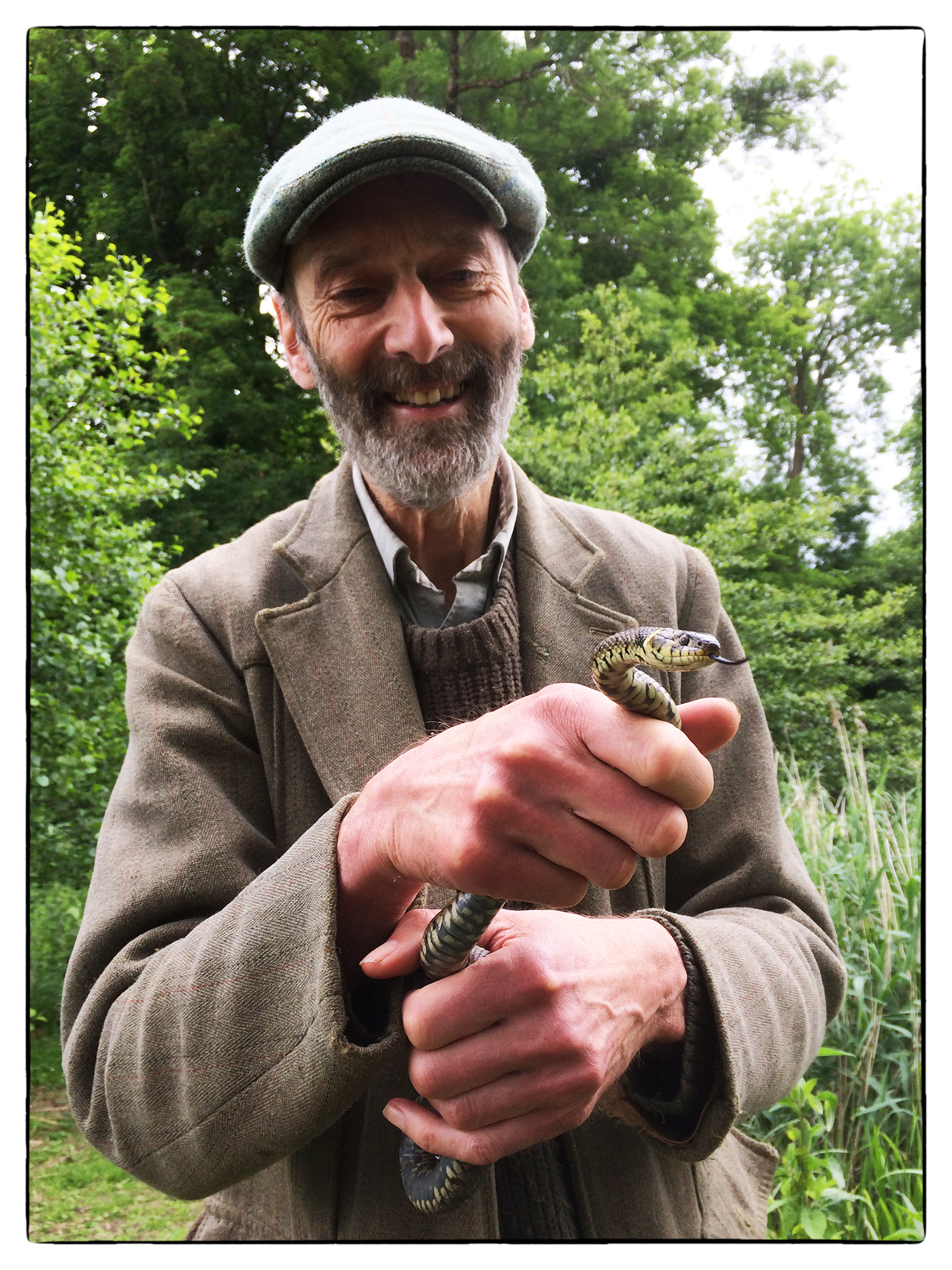 Merv had caught several decent roach, but his swim had also quietened and as Chris finally rolled through the gate we were ready to let the rest of the morning drift. Martin and Merv returned to their swims to check for movement, while Chris and I took a solemn stroll around the lake as Chris bemoaned the willow destruction for himself. With frustrations vented, we pondered our options, and with a healthy warmth from the sun, the only logical thing to do was leave the fish to mooch and find an alternative distraction. We crept around to last year's deadened reeds on the far bank and soon heard a familiar rustle. I caught the first one—a fair-sized female with a distinctive broad head—while Chris crawled up to a tiny gap in the reed-bed to snare a smaller, but stunningly handsome male. With a grass snake apiece it was tea time again, and before we knew it, late morning had become lunchtime and the first thunderstorm of the day began to rumble in the south-west.
**********
For the following two hours we huddled under brollies with our floats lined up like a flat back four. The radio crackled each time the lightning flashed across the tree line to the south, and we strained our ears to hear the commentary as the rain pummelled the water and Gareth Bale put Wales 1-0 up. Martin opted to fish the second half with 1 red and 2 white maggots on the hook, suggesting that combination would reflect the final score, while Merv stuck it out with sweetcorn and I seemed to have found the prime spot. The roach came steadily, the best (caught by Martin) nudging 12oz, and as the football intensified Chris found himself doing battle with a big pike that snatched a roach on the retrieve and kept a hold until it caught a glimpse of a landing net.
The storm inched north-eastwards, Vardy equalised and I added a perch for variety. Were England actually responding to Martin's bait arrangement?
The pike grabbed another of Chris' roach and this time tried to take him around the island. Come on Chris—land the pike and England will pinch a late winner. Into injury time, England pressing, but the pike lets go again. Disaster…. and then suddenly cheers. Sturridge scores! It's 2-1 and there is no time for Wales to come back.
**********
The rain stopped as if flicked by a switch, and though another great thundercloud began to billow to the west, for now the sun returned to accompany the beers that Merv had stashed in the margins first thing.
After ales, tea, and chocolate the next storm nudged overhead and we made our way to our evening pitches. Martin returned to his morning swim, I settled in a few yards below him and Merv and Chris made their way to a corner where the trees still stood and offered cover from the rain. Martin missed an unmissable bite, and the thunder rolled once more. In such shallow water, the impact of the weather was ever more evident. Our baited spots would begin to bubble, only for another deluge to snuff out the fizz.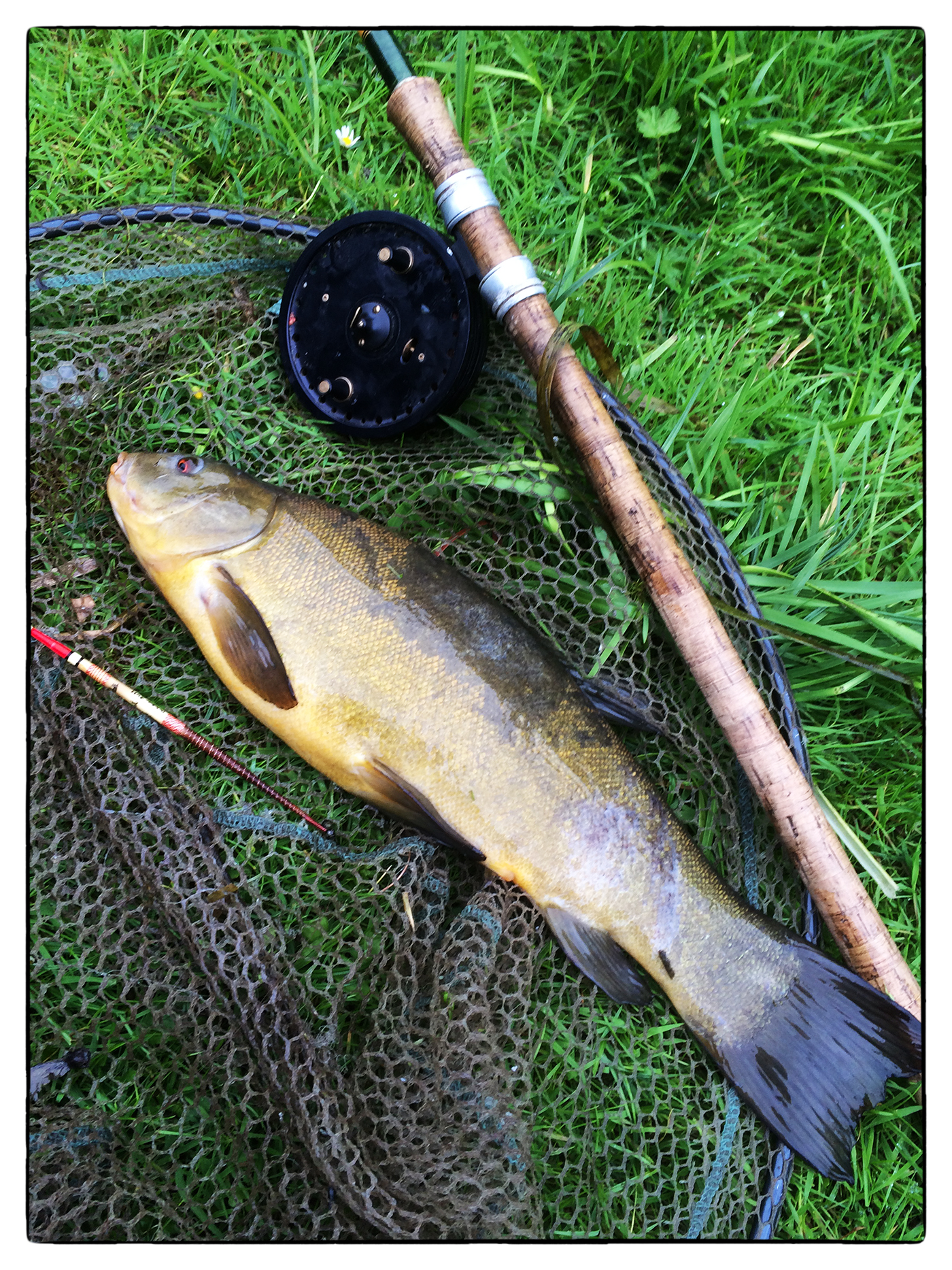 Chris enjoyed better joy under cover, and soon caught a tench of nearly 4lbs, before losing a second at the net and snatching at a couple of bites (he did later complete his brace).
At some point between storms my float dipped and a carp dived towards the weed to my left. With 4lb line I doubted my chances but got lucky and bundled a low double into the net. It was fat with spawn so went back without a photo.
Darkness was coming all too quickly and though the sky finally cleared, the temperature dropped sharply with it and the water again slipped into a glassy stillness. Like England's quest for European glory, Martin's hope for a opening day tench will have to wait, but hopefully not for long…