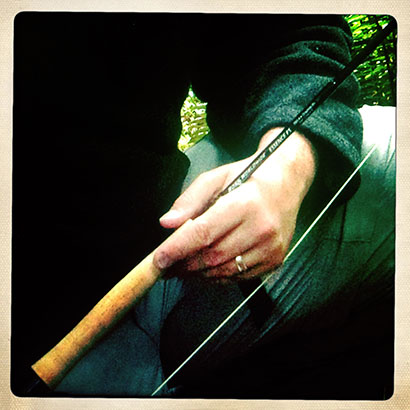 In a country so closely associated with modern technology, it may be a surprise to some that one of the most popular fishing methods in Japan, is also one of the most straightforward.
Meaning 'from heaven' or 'from the skies', Tenkara is a method of fly fishing in which the angler forgoes a reel to use just a rod and line. Most effective in the narrow, fast-flowing mountain streams, Tankara rods are traditionally made from bamboo (treated, but not split), though in more recent years carbon and glass fibre have become more widespread. The rods are long – up to fifteen feet – lightweight and flexible. The line, which is typically tapered monofilament, is attached directly to the end of the rod and is set at a length slightly shorter than the rod itself. A fly is tied to the line and either cast or dapped to attract a rise.
Tenkara fishing is believed to have originated among professional anglers who were targeting the mountain streams for char and salmon, though in recent years the technique is finding interest away from Japan. One noted exponent of the style is ron P. swegman who uses the Tenkara method on the streams near his home in Philadelphia.