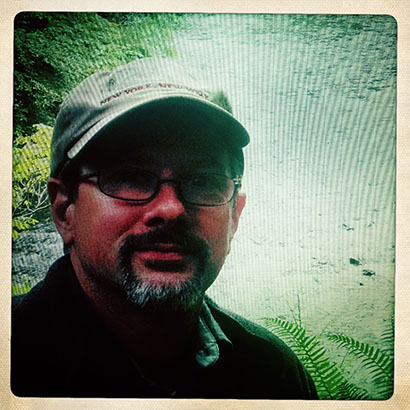 Pittsburgh, Pennsylvania's second largest city, is famed for its Steel manufacture, its sports teams – The Steelers, The Pirates and The Penguins – and for bringing us such famous names as Gene Kelly, Dean Martin and ron P. swegman.
Ron's literary career began during his time at Penn State University where he wrote for and edited the University Newspaper – The Daily Collegian. A fellowship at the Poynter Institute for Media Studies followed, where Ron developed a keen eye for illustration.
Ron settled into life as a freelance, writing poetry and fiction and playing a strong hand in the Zine movement of the 1990's. Having found a home in Philadelphia (Pennsylvania's largest city), Ron rekindled his childhood love of fishing (and now particularly tenkara fishing), and set about exploring the urban and suburban angling that his local landscape offered. His adventures led to the publication in 2005 of his first book – Philadelphia on the Fly: Tales of an Urban Angler – and demand for Ron's words and photographs rapidly grew.
In 2009, Swegman published Small Fry: The Lure of the Little and more recently, in 2015, came what is surely the pinnacle of his career to date – a piece in Fallons angler Issue 4.