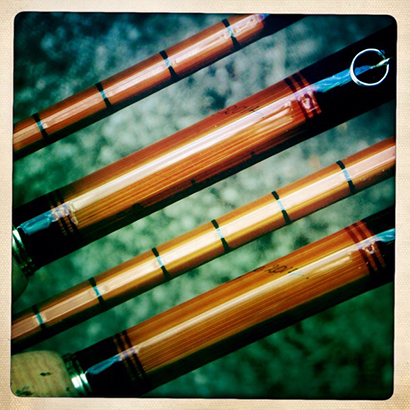 Back in 1980, on the Opening Day of the season, Chris Yates famously caught the biggest carp ever. At 51 and a half pounds it added more than 7 pounds to Dick Walker's existing record and sent shockwaves through angling.
Yates had caught the fish before, and in keeping with the chess-piece themed naming of the carp in the lake (Redmire Pool), knew the fish as The Bishop.
In recognition of the fish and its capture, Yates and split cane rod builder extraordinaire Edward Barder (see People we Like) contrived to design and create a rather special rod.
Barder's Bishop is a two piece, eleven foot split cane rod, made slightly longer than Richard Walkers Mark IV Avon (see Bits and Pieces Issue 16) in order to aid line control and the setting of a hook at range. It has a test curve of 1.75lb and is designed for use with lines of 10lb to 12lb breaking strain—casting weights up to 2.5 oz. The handle is 26 inches and the rod has a compound taper, perfect for absorbing the lunges of a monster.
And the price? Ah….that's where Fishpool falls a bit short, but having cast with one, he is assured that you truly get what you pay for.