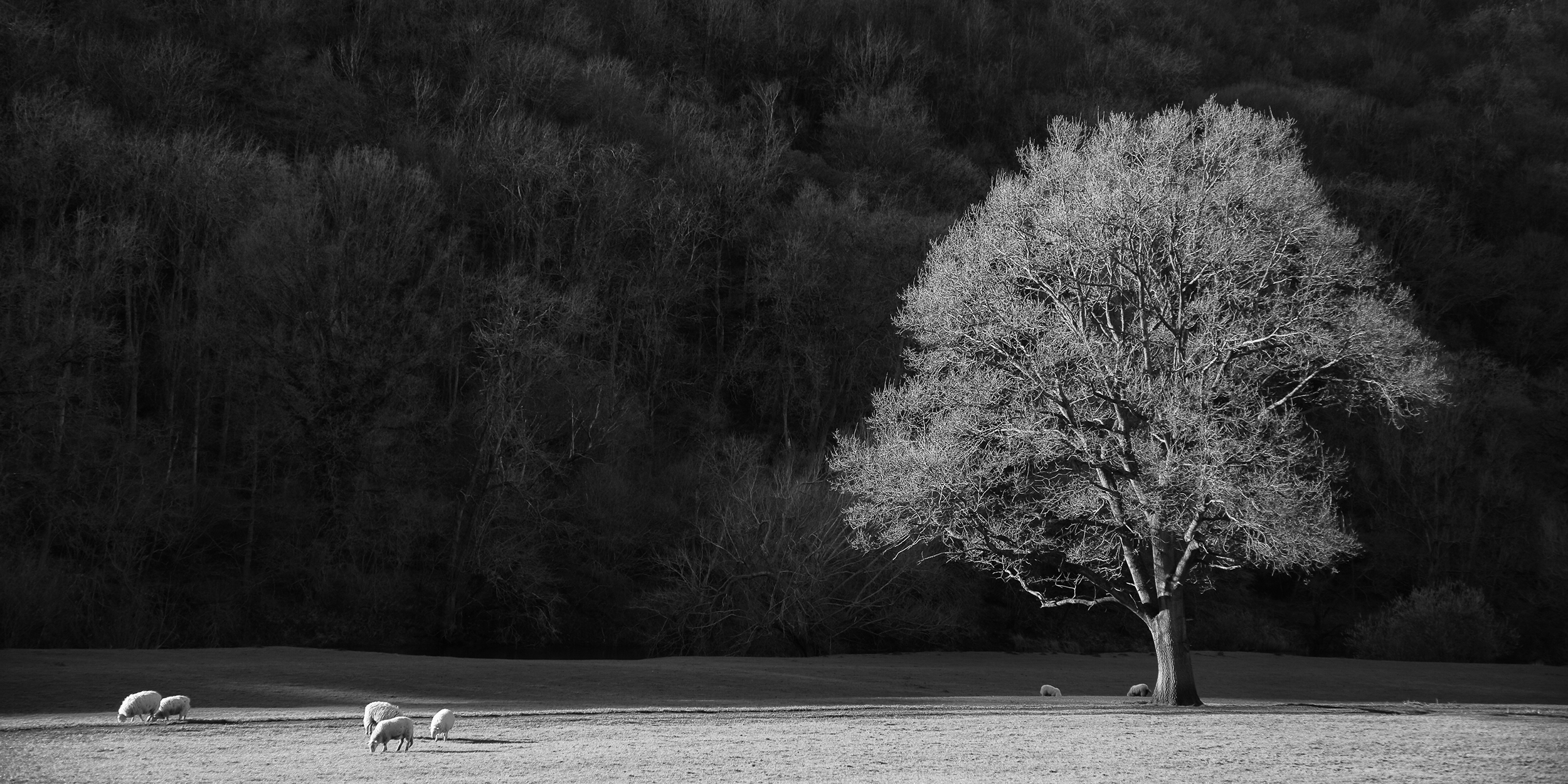 "Spare any change mate? I need six quid for breakfast." I give what I can, and the homeless man departs. That's London prices for you.
7.30am, Sunday morning, Vauxhall station; a toxic junction of smell and sound that assaults the senses. Voices clash loudly, night owls mix with the morning larks. Drunkenness or drama? Violence or the vitality of life well lived? I remember a time when I crawled out of clubs at 7am and still wasn't content to go home, so I cannot throw stones or my glass walls will crash around me. But this is making me uncomfortable, a lone sentry while the barbarians gather at the gates. Where the hell is Nick?
It's safer in the car. Three young men amble past, clearly under the influence, their boxer shorts revealed to the world by their low-slung jeans. Despite all the advances in science, there in front of me lies proof that the youth of today can somehow defy gravity, or at least their trousers can. Two more dressed similarly try to run past, one comically grappling with his jeans, which have decided that gravity is to be obeyed after all. There is evidently a tipping point to such things, a line drawn somewhere down one's hip beyond which the trousers and gravity agree, a point where fashion becomes, well, pointless. Where the hell is Nick?
Four young men walk past in high heels, red hotpants and red military jackets, the kind you might wear if you were a tin soldier. One has a red military hat on, and has dyed his beard blue. There is much frivolity. I don't think they were in the same club as the men displaying their underpants, despite how likely that may sound. Where the hell is Nick?
The phone rings. It's Steve, our salmon guide.
"Morning Garrett," he says in a way that implies there's something hanging in the air, like he's burnt the morning's bacon. "Whereabouts are you?"
"Hey Steve," I reply. "I'm at Vauxhall station, just waiting for Nick."
"Are you still going to Redmire to have a look before you come to the river?" he asks.
"Yes we are," I reply. "Is that ok?"
Steve had said the night before that he thought we were mad to forgo the Wye even for an hour when she was in such good condition, simply to visit Redmire Pool. But I explained that to be fishing only a few miles away without taking a peak would probably eat away at me, especially as I'd be salmon fishing and long periods will be spent wondering what the hell I'm doing.
"No that's ok Garrett. I might actually join you, so what time are you meeting?"
"Oh, I thought you said we must be mad to miss out on the river when it's in such glorious condition," I say, the suspicion suddenly building.
"I did. But that was before it rained last night, and the river rose by six feet."
My heart falls to the floor. The noise outside is silenced by my inner voice screaming 'Nooooooooooooooooooooooooooo!"  I am colonel Saito watching the Bridge on the River Kwai blow up and collapse, Grand Moff Tarkin (Peter Cushing) in Star Wars when he realizes that Luke Skywalker is about to blow him and the Death Star to smithereens, Ian Beal in Eastenders when he's caught that bloke from the Queen Vic in flagrante with his missus.
This has happened before, a trip to the Wye spoiled by rain, when the river transforms from beautiful and tea-stained and pregnant with the promise of salmon, to something resembling hot chocolate, where you're more likely to catch a glimpse of floundering sheep. And now it has happened again. Throughout the week Steve has cheerfully emailed and texted regularly to our group, nourishing the anticipation of the fateful day when we'd be casting our lures for salar. I could barely contain myself, like the build-up to the debutantes' ball, when that girl from next door finally agreed to be my date; or the long wait to see Manchester United play football; or—wretchedly—waiting impatiently for the remake of Starsky and Hutch. Then the night before our adventure the heavens open.
Nick, the Fallon's Angler photographer, arrives exhausted. The escalator was broken so he has climbed Machu Pichu to get from the Underground to here with his tackle and camera gear. We load up. I explain the situation. "For fuck's sake," he says.
Life can let you down sometimes, but you learn to pick yourself up. The girl from the debutantes' ball snogged some other loser, Manchester United got properly thrashed, and Starsky and Hutch was, as everybody knows, total pants. So it happens on fishing trips the world over, I guess. You plan carefully, make arrangements, purchase what you need, but no matter how prepared you are, you can do nothing about the effing weather. If it was any other trip I would have cancelled, but five people are converging on the Wye, and a chance to absorb some camaraderie should not be missed in this life that we take all too seriously. We are going. Through hell, or, well, high water.
Several hours later we cross the river somewhere near Ross-on-Wye. We've been telling ourselves that it might not be so bad. "We can always fish the margins. You just never know," Steve tells us in cheery text messages. I admire his unquenchable optimism. While I moan and snivel about the lightest of drizzle, he dons his trusty barber and casts remorselessly in all weather as calmly as if he were making a cup of tea, never losing his temper, never flagging in the face of terrible odds, the type of character who made Britain great.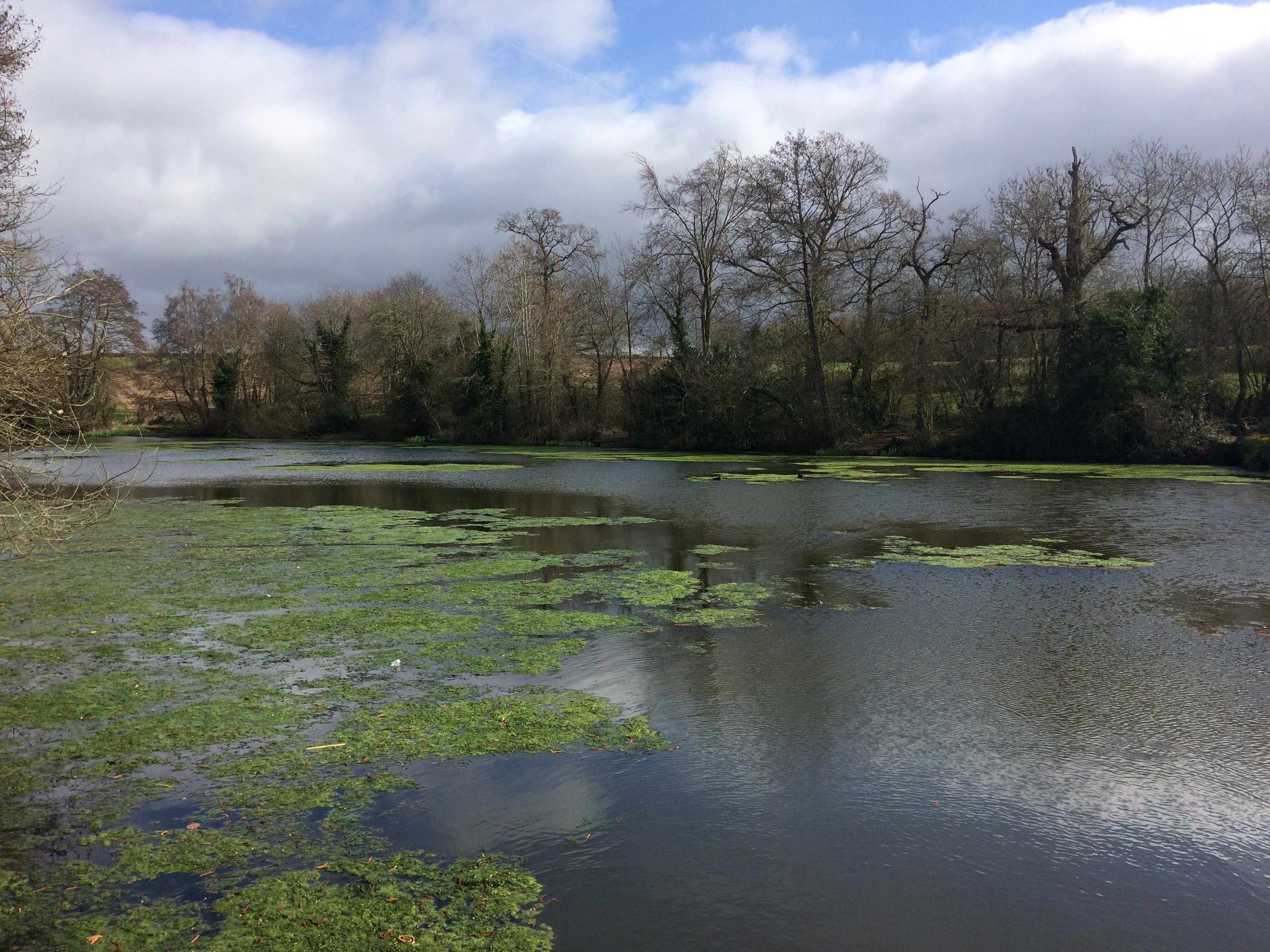 But the river is high, high, high. We cannot see the margins, or at least the real margins. We can't even see where the original margins might have been. For all we know, we'd be fishing on top of a rock. At least we're seeing Redmire.
One of our group, Ed Whitby—on his first salmon foray—had suggested earlier in the week that we pay a visit to Redmire Pool, seeing as it was so close by. It was the closed season so nobody would be fishing it—including us—so it was a chance to see the pool without her guard up. Like so many others, I have been enchanted by Redmire since the 1980s when I first read Casting at The Sun by Chris Yates, but I had never visited it. You need to be careful with dreams, and the visions we create in our mind, lest the reality not live up to the hype. I had fought with the idea of the visit, as to take an hour away from fishing the wonderful Wye would be sacrilege, but the chance of a salmon had been flushed away with the six feet of soup that surged its way towards the Bristol channel.
The pool looked gorgeous, and despite what people often say, it was bigger than I thought it would be.  I guess the trees were bare and the vegetation was sparse, but in her early spring clothes, Redmire looked in fine fettle.  We gathered by the dam rail, paused in Kefford's, the Willow, Ingham's and all the famous swims.
We finally reached the swamp, where Chris Yates and Bob James erected their scarecrow in A Passion for Angling. I remember Chris finally standing in its stead, and feeding the cruising carp beneath his rod. Then Ed calmly said: "And there's a fish, and another one." We saw them—not one, not two—but many of Redmire's famous carp.
For the last few issues of Fallon's Angler, we've been increasing our knowledge of conservation and fishery management, courtesy of Mark Walsingham, known to most as Skeff. It's been a pleasure to build up to the climax of his work, which is his vision for the future of Redmire, revealed in Fallon's Angler issue 9. It makes fascinating reading, both from a conservation point of view, as well as an intimate account from a member of the Golden Scale Club. All of these details were flowing through my mind as I slowly made my way around the pool, and as I came to the dam end, who should be standing there, but Skeff himself, with one of the owners, Kim Richardson. It was completely by chance, and a lovely moment, to share the experience with two who know the water so well.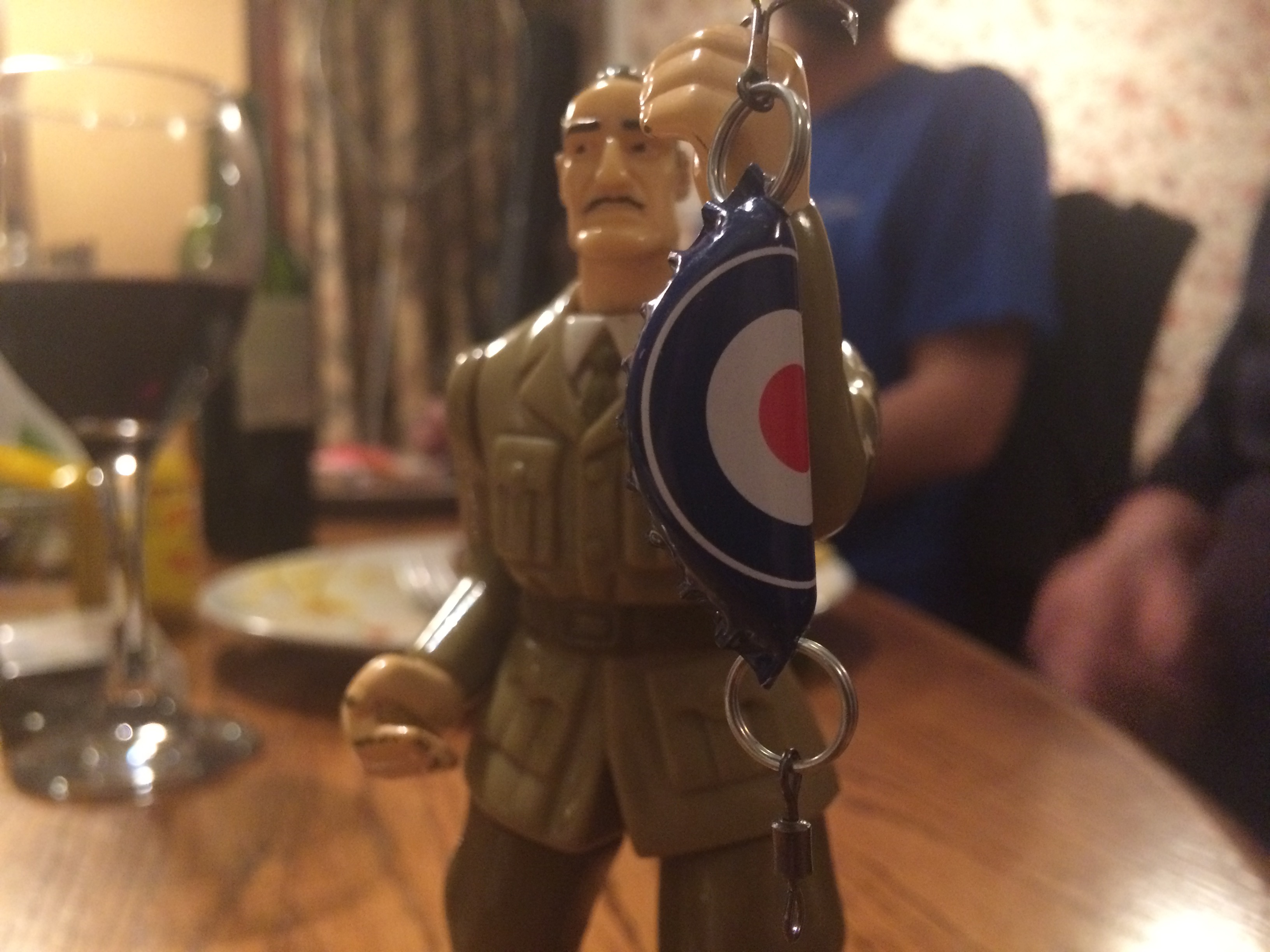 That is one of the enduring factors of fishing, the coming together of likeminded people. In fishing as in life, we should cherish individuality, but to share common ground is good for the soul, a spiritual breaking of bread or clinking of a glass in honour of a unified belief, and we didn't even have to cast a line to do so.
After saying our goodbyes we made our way to our bolthole on the banks of the Wye near Symonds Yat. We drove down a long, potholed lane, cut deep into the steep hillside, and the last clinging, grimy residue of Vauxhall gently blew away in the evening breeze as the river showed herself from between the trees. A final drive through a glade of pine trees brought us to a converted barn barely 100 yards from the river, and the cry of a peregrine called above to let us know that we were somewhere special. We paid our respects to the river, cast for a bit, sat and walked for a bit, breathed in the air for a bit. Deep into darkness, after an epic journey, Dominic Garnett joined our merry group, as did the General—who managed to drink an awful lot for a six-inch action figure—and the shared joy of being by this gorgeous river nourished us through our stay as much as the variety of beverage we consumed.
The next day, the Wye was still high, but we nevertheless continued to fish it, learning how to fish the Wye lead with Devon Minnows, and watched as the river dropped five feet over the next 36 hours, something which further stirred our enthusiasm. On the last morning, with plenty of colour still rushing through, the gauge upstream started to rise again as rain fell up country. 24 hours later and the Wye would be higher than at any stage over the past few weeks, but as the raging river flushed all before it, our two days on its banks among friends, flushed away the stresses and strains of our lives.