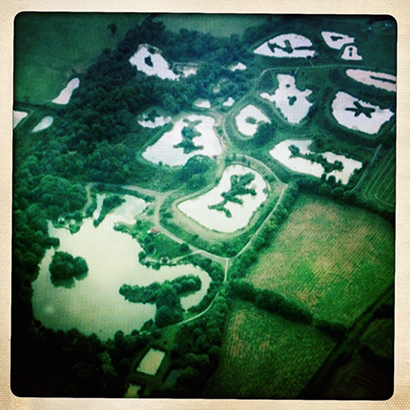 Nestled into the rolling hills of West Devon, near the village of Beaworthy, is one of the most popular man-made fisheries in the country. The vision of Zyg Gregorek Anglers's Paradise began life in 1981 as a single, empty and neglected lake. The site now covers more than 250 acres, with a variety of lodges and accommodation, two bars, a swimming pool, sauna and Jacuzzi, tackle and bait shop and even a launderette. There are 12 lakes available exclusively to residents, with a further 20 that are available on day ticket or syndicate.
Though not to everybody's taste, the lakes here offer a huge variety of fishing, with giant carp and catfish, record breaking golden tench and golden orfe (see Fish we Like), tench fishing on a lake that is tench shaped, and fly fishing for 5 different species of trout.
The tors and wild landscape of Dartmoor offer stunning views to the south, while the more mature lakes offer seclusion and serenity for those less sociable than others.
In 2012, Little Egret Press published Angler's Paradise – 25 Years of the 5 C's, an anthology of tales compiled by Zyg Gregorak, with contributions from the likes of Peter Mohan, Rod Hutchison and Len Gurd – the proceeds of which go to charity.