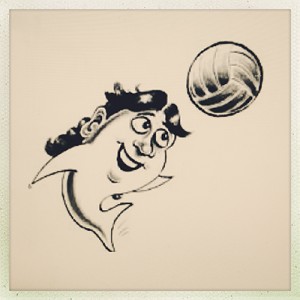 It would be wrong for an Issue of Bits and Pieces to have featured The Pathetic Sharks without finding room for Viz magazine's greatest ever fish.
The tale of Billy Thompson is quite extraordinary. Born half man half fish, his life was without purpose until he was talent spotted while playing football in the local park by Tommy Brown and Syd Preston – Manager and Coach respectively of the mighty Fulchester United.
Despite having the body of a fish, with fins instead of arms, Billy is able, somehow, to float a few feet off the ground and swim through the air – qualities that enable him to be a top class goalkeeper.
His career is remarkable. Lining up alongside players such as Shakin' Stevens and Johnny X (the invisible striker), Billy soon finds himself surviving an assassination attempt, kidnapped by aliens, and blown up during the FA Cup Final by a bomb attached to the ball.
Having been called up to the England squad Billy is nearly drowned (despite being half fish) when he is locked in Wembley Stadium with a hose left running. Somehow, despite all of this and thirty years after his debut, Billy is still playing. A man-fish miracle indeed…