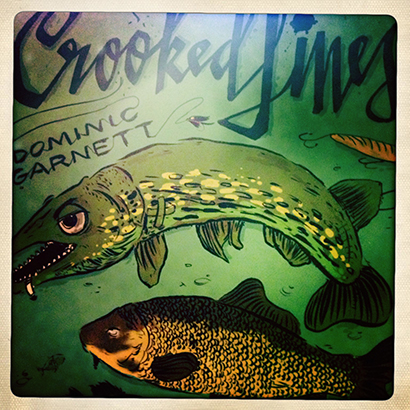 Widely regarded as one of the finest angling writers of his generation, Dominic Garnett must have felt a little directionless of late. The publication of Fallon's Angler Issue 5 sees Garnett reaching the pinnacle of his career. As contributor to five consecutive issues of Mighty Mr Fallon's meteoric manuscripts (Fishpool is still angling for that pay-rise….), from hereon in Dominic can only ever – at best – step sideways….
Fortunately for all of us, this has not been a hindrance to our Dom.
Crooked Lines was published in late November and features two dozen of Dominic's finest angling tales. These are not your everyday run-of-the-mill essays detailing great captures from legendary waters, but quirky, warts and all yarns that reflect the true diversity of angling.
With artwork by Lord Bunn, design by the peerless Lord Garrett Fallon (*cough-payrise-cough*) and a forward by Matt Hayes, Crooked Lines looks and feels as good as it reads.
It is hard not to like Dominic's writing. His wit and candour are refreshing and his ability with a pen pretty darn faultless. As they say in the review section – Well worth a read.