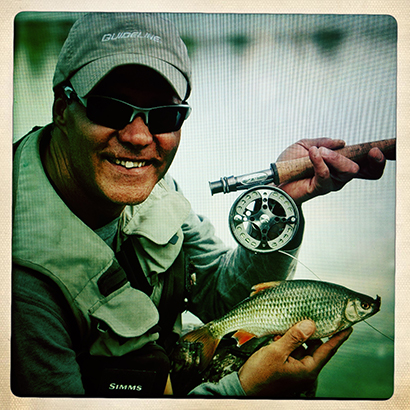 Anyone who is a regular viewer of fishing programmes on the satellite channels will know Matt Hayes almost as well as they know themselves. Having appeared in over 200 television programmes, Matt has recently become a familiar face on terrestrial television too – acting as a judge on BBC2's Earth's Wildest Waters – The Big Fish.
Matt's angling ability is unquestionable. Known predominantly as a coarse fisherman, Matt is in reality a true all rounder, and is particularly fond of fly fishing. He is able to cast with either hand and applies the technique to a variety of fresh and salt water species.
Matt spends time every summer in Norway where he runs a salmon fishing lodge on the Guala River, before returning to the chub and pike of a British winter.
Matt has written many words on angling, and has been a regular contributor to a variety of angling magazines and newspapers. He recently wrote the forward for Dom Garnett's Crooked Lines and has also penned three books of his own – the most recent being Red Letter Days, a collection of essays describing some of his best most remarkable fishing exploits.