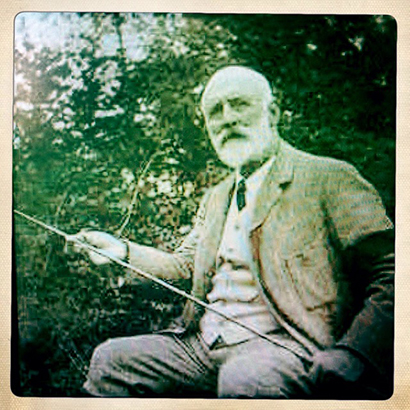 Born in 1844, Frederic Halford's first forays into angling were made in the parks of London where his family moved while he was a young boy. When in his early twenties, Halford was offered a chance to fish the River Wandle in South London, and here he began to learn the art of fly fishing. He was fascinated by fellow anglers casting for rising fish using the dry fly, and it was a technique with which his name shall forever be associated.
In 1879, Halford met fellow angler George Selwyn Marryat and the two became firm friends. A shared love for fishing the dry-fly led to Marryat and Halford researching and writing Floating Flies and How to Dress Them which was published in 1886.
Halford went on to write much on the subject, and wrote a further five books on dry-fly fishing. His focus upon entomology and the need to tie precise imitations in order to fool a fish led Halford to be seen by some as the forefather of dry fly fishing. In truth, he was honing a technique already in existence, though the depth of his knowledge and understanding of technique can not be argued. He died in March 1914.