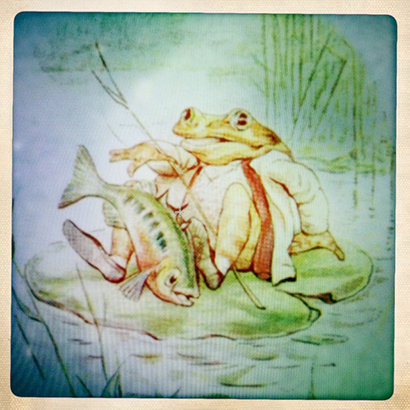 Okay, so he's only a fictional character and technically not a even person but Jeremy Fisher (no relation to Nick Fisher) is surely worthy of inclusion.
The creation of Beatrix Potter, Jeremy Fisher is a frog who lives in a house among the buttercups at the side of a pond. One morning it begins to rain and Jeremy decides it is a good day for fishing. He gathers up some worms, puts on his MacKintosh and Galoshes and hops off to his lily-pad boat.
Jeremy decides that should he catch 5 minnows then he will invite his friends for tea.
Using a grass stalk for a rod and a piece of horse hair for line, Jeremy casts his 'dearest little red float' and has an immediate bite.
It is no minnow, however, but a stickleback (called Jack Sharp) who pricks Jeremy with his spines and flips back into the water. To rub salt into the wound, a shoal of small fish then appear and laugh at poor old Jeremy's misfortune.
The day gets even worse as a trout rises up and grabs Jeremy with a snap! Will he survive? Will he get his fish supper? You'll have to read the book to find out…..