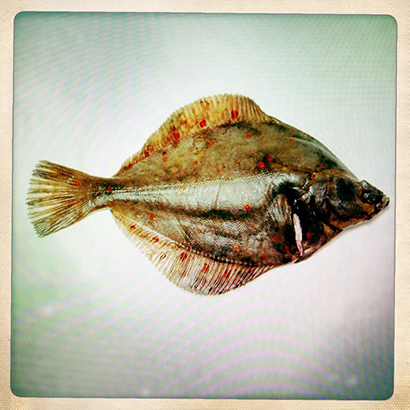 Probably our most well known flatfish and certainly one our most highly regarded culinary fish, the plaice (Pleuronectes platessa) is one of the few sea fish to have appeared in Bits and Pieces that isn't under threat.
Not growing particularly huge, the shore caught record is a little over 8lbs in weight, the plaice is identifiable from the orange-red spots that dot its back. In summer months they move into shallow water to feast on marine worms and small crustaceans and it is then that they are popularly targeted by rod and line. Rich sand or mud bottomed water, such as that found in Morecombe Bay, is perfect for targeting the plaice, and the evening tide is often most productive.
Plaice are aggressive feeders and even small specimens will grab an angler's bait with vigour. Worms – either rag or lug – are perfect baits and many anglers use a string of beads on the hooklength to attract the fish.
Familiarly found on the menu at Fish and Chip shops, the plaice also tends to find itself on the name above the door – in increasingly cheesy fashion…