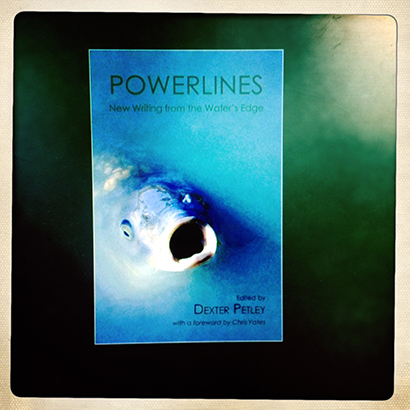 Anyone fortunate enough, and sensible enough, to be a regular reader of Fallon's Angler will be familiar with the brilliantly left-field scribblings of Dexter Petley. This is a man who writes quite unlike any other, and he is clearly inspired by those who also follow literary paths of their own.
In 2009, The Raven Press published Powerlines – New Writing from the Water's Edge, an anthology edited by Dexter and featuring some of the freshest and most renowned angling writers of recent years. As the sleeve notes suggest, this is An anthology of exceptional writing, which just happens to have fishing in it, on it, of it; for readers who crave good contemporary writing of any kind.
There is a lovely blend of authors, with names such as David Profumo and John Galligan more familiar perhaps from non-angling literature, while regular readers of Fallon's angler will be familiar not just with the Editor, but also of John Andrews  and William Wyatt. There is even a forward by Ol' Man Yatesy.
Fishpool is a fan. There is plenty here for everyone – the writing is sharp and punchy, with plenty of humour alongside raw emotion and real life. There is even the odd fish.