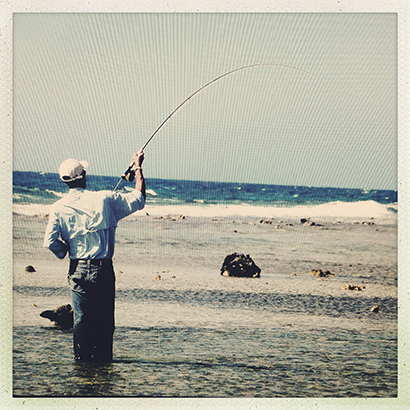 Perhaps the most key attribute required to be a successful angler is the ability to adapt. Tradition, and in many cases fashion, dictate the methods by which we target fish, but often such practices seem dour and repetitive. Trying something altogether different, even off the wall, will not only spark fresh enthusiasm, but will often fool a fish that has wised up to the norm.
Many anglers have successfully cast artificial flies for coarse fish. Indeed, Fallon's Anglers contributor Dominic Garnett has published a book on the subject. But fly-fishing is also a deadly method for many sea fish.
Shallow water species such as bonefish and tarpon are especially responsive to the fly, but we can't all travel abroad to find them. In British waters, mullet and bass are well worth casting for, particularly in shallow estuaries or creeks on a flooding tide. Wading is often possible in such places, though casting from the bank can be productive – while the adventurous might fancy fishing from a small boat or inflatable seat.
Aside from the weight of the outfit, which will need to cope with heavy, hard-fighting fish, it is also important to wash of the tackle after every trip. Sand and salt tend to get everywhere….