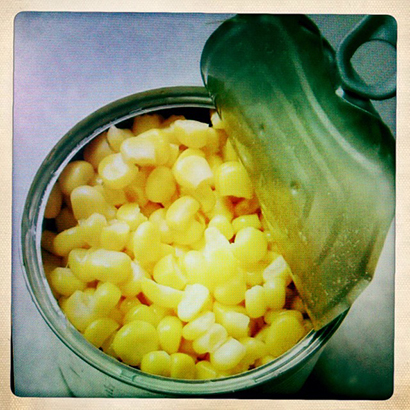 Fishpool is going to be honest from the outset. He or she does not like using sweetcorn as a bait and has struggled when using it. Yes, I've caught plenty of fish with the stuff, but not enough to convince me that it will ever catch more than bread, maggots, top secret pastes or elderberries. Frankly, it should be left on the cob, blanched in boiling water, smothered in butter, salt and black pepper and given ten minutes on the barbeque.
Nevertheless, I am surely in the minority. A tin of sweetcorn is one of the first baits that young anglers look to use. It is reasonably cheap; reusable (it can be frozen or left to 'mature'); not too smelly (unless it's been left to 'mature'); and can be dyed or flavoured. When tinned it also comes in a juice that keeps the grains moist and makes a useful groundbait additive.
It is a popular bait for tench and carp (see Fish we Like), though will also catch roach, chub, barbel and bream. It can be hair-rigged and critically balanced (with a piece of foam imitation), and even works when placed straight onto the hook.
As a carp bait, it came to prominence in the 1970's, with the carp of Redmire Pool especially keen. Chris Yates and Rod Hutchinson (see People we Like) used it to spectacular effect, culminating in Yates' record carp of 1980.
Fishpool remains unconvinced….