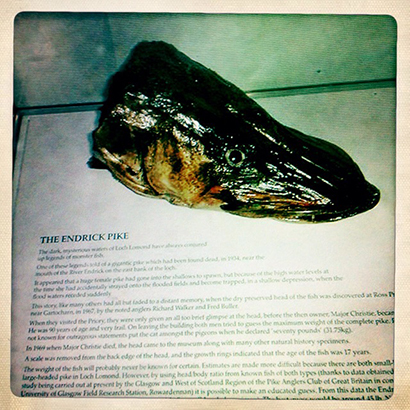 The very best fishing stories are those with an element of truth to them, and what makes a good story great, is when there is sufficient evidence to keep people talking about it forever.
In 1934, beside the mouth of the River Endrick on the shores of Loch Lomond (see Places we Like) the body of an enormous pike (see Fish we Like) was discovered. The
head was taken and subsequently preserved and ever since has drawn interest and discussion.
Noted anglers such as Dick Walker (see Bits and Pieces Issue 6) and Fred Buller, angling historian and author of The Domesday book of Monster Pike, speculated that the complete fish may have weighed 70 pounds or more. Others are more conservative, though few think the fish could have weighed less than 50lb.
Of course, we will never know for sure, but in the meantime should you be in Glasgow then you can take a look for yourself – the head is exhibited at the Kelvingrove Art Gallery and Museum – and afterwards, you can pop up to Lomond and catch an Endrick monster for yourself….