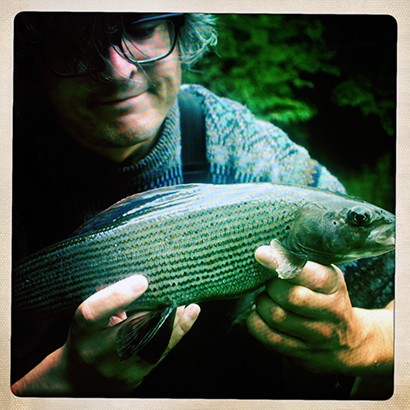 Vincent was only three years old when he first wet a line, and made his first casts on the canals in and around the centre of Manchester. His love of fishing swiftly blossomed, and he has gone on to catch some fabulous fish of many different species.
Vinny writes a weekly blog (www.northwestfisherman.wordpress.com) and has built up quite a following. His easy going nature is reflected in his words, and he takes as much pleasure from an hour snatched on the local cut as a dawn start on a steaming estate lake.
As well as writing, Vinny also has a rather fine ability with a camera, and has produced a couple of short films entitled A Summer Tench and The Winter River – both of which can be viewed via his blog.
When not fishing Vinny is partial to beer and music, that, by his own admission, was made far too many years before he was born.
Vinny makes his Fallon's angler debut in Issue 5 (chasing grayling) and Fishpool suspects this will be the first piece of many.